Members of the Oregon Legislature's Black, Indigenous and People of Color (BIPOC) caucus released a statement Monday condemning the effort by members of the Newberg School District Board of Directors to reverse the Every Student Belongs act, a recently enacted state policy that passed with broad bipartisan support prohibiting the display of hate symbols in Oregon schools.
The bill's intention is to ensure every state-funded school creates an inclusive learning environment for Oregon's increasingly diverse student population. It bans the display of swastikas, the Confederate flag and nooses. It also requires school districts to establish policies that respond to incidents of bias and displays of hate symbols.
As first reported by Pamplin Media Group, new leadership on the Newberg school board is leading the district in a different direction. In July, the board swore in two recently elected members — Trevor DeHart and Renee Powell — and voted to elect David Brown and Brian Shannon as chair and vice chair, respectively.
The two quickly got to work setting an agenda for the school district that seems to reverse the course the board had been taking in recent years to adopt anti-racist policies and commit to inclusivity by attempting to undo rules both local and statewide.
Following a contentious discussion at the board's July 13 meeting on banning Black Lives Matter Signs and gay pride flags in district facilities, as well as repealing anti-racist policies previously enacted by the board and the state Legislature, the board was procedurally forced to push a vote to its Aug. 10 meeting. It's unclear whether the vote will pass. At least three of the seven board members — including former board chair Brandy Penner — reacted negatively to the effort.
The action by Newberg's school board follows news last month of the greater Albany School District firing its superintendent without cause. Board members in Albany declined to give a reason, but the situation echoes scenes of politics playing out in school districts and state education boards across the country.
"Nationally we are seeing a trend of school boards rolling back anti-racism and anti-discrimination protections. This is unacceptable," the BIPOC caucus' statement said. "After a difficult 18 months and with another school year just around the corner, we should be prioritizing a more welcoming and equitable education system. What the data shows is that we are not yet there, with BIPOC students experiencing racism in the classroom from a young age."
In Monday's statement, the caucus stated that it is concerned about the process by which the Newberg school board is attempting to revoke the policies, calling the effort an "undemocratic attempt" to push the agenda without input from the public.
"We can't let this spread any further," the statement said.
The caucus also pointed out that a chief architect of the Every Student Belongs act was David Brock Smith, a Port Orford Republican member of Oregon's House. The caucus also noted that the bill had broad bipartisan support and sailed easily through both chambers in a legislative session that was marked by bills advancing social equity and racial justice.
Caucus member Rep. Janelle Bynum, D-Happy Valley, told OPB that the move by Newberg's school board hurts not just the children they serve, but Oregon as a whole in its effort to attract businesses and to recruit the best employees to move to the state.
Bynum said the reversal of the policy is detrimental to white students who need to be exposed to people and cultures different from their own so they can go out into the world and know how to interact with all types of people.
"The intent of the Legislature in developing this piece of legislation was to protect children in the classroom and create a competitive workforce prepared for the challenges of the future," the statement said. "Oregon businesses now and in the future will need communities that are safe for their workforces and potential clients."
Sen. Lew Frederick, D-North Portland, told OPB that while he isn't surprised by this type of move, the caucus can't sit idly while the work they've put into creating a more equitable Oregon is undone.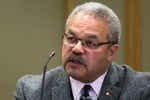 "It's a sad commentary on the fact that we have people who are in such incredible fear of reality," Frederick said.
Frederick said that it's "not by accident" that this potential action by Newberg's school board mirrors efforts taking place across the country.
"This is a coordinated effort by folks who have decided that they need to try to create both a distraction and prey upon the fears of people," he said. "They are using that as much as they possibly can to try to stop, or reverse progress, quite frankly."
According to Frederick, this isn't unique to Newberg. He cites what happened in Albany, as well as discussions taking place in Oregon City, Canby, Bend and other cities around banning policies and educational practices that teach children about the dark side of American history in which Black, Brown and Indigenous people were treated as lesser than white people.
Frederick said he views it as a coordinated effort by the right-wing fringe to take over local offices and reverse course on diversity, equity and inclusion policies under the guise of pushing back on COVID-19 mandates and other statewide safety guidelines.
That's particularly offensive, Frederick said, considering Newberg schools have an increasingly diverse population. According to the district's state issued report card in 2019-20, about 21% of the district's population identifies as Latino.
"Newberg, Albany, Bend, Oregon City, Canby — all these places have real change that are going to be taking place because of the demographics of the people who live there now who are part of the community, who contribute mightily to the community," he said. "But they don't want to acknowledge those folks are there, and they don't want to acknowledge their history, their success and their challenges."
The Every Student Belongs policy is also tied to statewide "Division 22" standards, which require public schools to comply or risk losing out on state funding.
According to Frederick — who serves as chair of the Senate budget subcommittee on education — there could be financial ramifications if Newberg decides to move forward in revoking the state policy, but he's unsure how the state would enforce that without hurting the district's students. He said that decision will likely be left up to the state's Board of Education and Director Colt Gill.