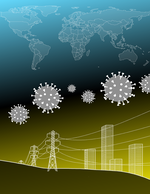 Researchers at Oregon State University and Stanford University found declines in electricity consumption during the pandemic across the U.S. and more than 50 nations, with daily electricity use declining by roughly eight percent in April 2020. In addition to the severity of lockdown restrictions, other factors linked to a decline in electricity demand were a country's electricity use during holidays and changes in individual mobility – for example, travel to retail and recreation locations. In the U.S., the Pacific Northwest saw a six percent decline compared to 11 percent for the Midwest. Study co-authors Hilary Boudet from Oregon State University and Ram Rajagopal from Stanford University reveal how their findings could help utilities and regulators better respond to unforeseen shocks to energy grids, including from extreme weather.
Contact "Think Out Loud®"
If you'd like to comment on any of the topics in this show, or suggest a topic of your own, please get in touch with us on Facebook or Twitter, send an email to thinkoutloud@opb.org, or you can leave a voicemail for us at 503-293-1983. The call-in phone number during the noon hour is 888-665-5865.