In an interview in a coffee shop near his North Portland home, Portland City Commissioner Dan Ryan speaks candidly about his first year-and-a-half on the job.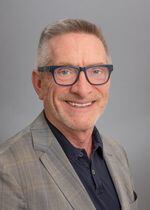 Tapped by the mayor to be the city's point person on addressing the homeless crisis, Ryan is well aware he is facing, as he phrased it frankly near the end of a recent interview, "a pile of shit." Anyone who thinks he can do better, well, he says he'd like to see them try.
As it turns out, not many are willing.
Ryan, 59, is vying for a full term after winning his seat in a 2020 special election following the death of Commissioner Nick Fish. Of the eight Portlanders who filed to run against him, activist and nonprofit head AJ McCreary has emerged as his leading opponent. The 36-year-old progressive is running far to Ryan's left, pledging to abolish the practice of sweeping homeless camps and dismantle police teams that deal with people in crisis.
While the platform might have resonated loudly a few years ago when the city was convulsing with nightly protests against police brutality, her pitch has proved less potent in 2022. McCreary's fundraising has lagged far beyond Ryan and most of the significant labor and newspaper endorsements have gone to him as well.
A quick jump into housing
Before running for city office, Ryan served on the Portland Public School board and ran the education nonprofit All Hands Raised. In his first city campaign, he pledged to use his leadership experience to unify the city's many factions and build bridges between the sometimes polarizing personalities at City Hall. He spoke often about the need to "implement real reforms" to the Portland Police Bureau, expand mental health and addiction services for people experiencing homelessness and speed up the construction of affordable housing.
Ryan's win in August of 2020 took place a few months into uninterrupted nightly racial justice protests. Neither he nor his opponent, two-term Multnomah County Commissioner Loretta Smith, seemed to speak to the swelling crowds that gathered nightly downtown. Portland voters appeared by and large uninterested with voter turnout just under 40% (the November election a few months later had double the turnout). Ryan beat Smith 51% to 48%.
When Ryan was elected, Mayor Ted Wheeler handed him the portfolio of bureaus to accomplish much on his wishlist. Ryan has had a trio of responsibilities that all have a role to play in addressing the homelessness and housing crisis: he serves as the commissioner in charge of the Portland Housing Bureau and the Bureau of Development Services, and he's the city's liaison to the Joint Office of Homeless Services, a joint Portland-Multnomah County agency that oversees much of the region's response to the homeless crisis.
He is perhaps best known to the public for his push to build "safe rest villages," city-sanctioned outdoor homeless camps where people will be able to live in sleeping pods and can receive services. A new commissioner, Ryan concedes he made a "rookie mistake" early on by giving the public an ambitious deadline for when the project would get off the ground. He initially said he planned to have the villages built by the end of 2021. As of April 2022, none have opened, though the city now has identified the locations for all six villages. Four are on city-owned property.
Ryan said he met brutal headwinds for his signature project. Bureaus had intentions for their land that did not include a large homeless village and wanted to hold on to the properties for "pet projects." His team flubbed site vetting in one infamous instance, pushing forward on a village they didn't realize was in a flood zone. And — perhaps not so unexpectedly — neighbors did not want homeless villages near their homes. He said they made that abundantly clear to his staff.
"I really don't think any leader, any elected official could be moving these any faster than my team is moving them. And my team is taking so many hits. Do you know how mean people are in the neighborhoods?" Ryan said in an interview, visibility irritated. "The amount of threats of lawsuits, the verbal abuse that people are taking in my office, just for answering the phone to say, 'Hello, how can I be of service to you?' … They're being abused daily — abused daily! — by people that really don't want anything to improve, I guess. Or they just want people who are homeless to go away — just to vanish and go away."
After months of negotiations, Ryan said his team is making headway because, as he puts it, "the mayor discovered that there [were] emergency powers." The mayor pledged this February to speed up the process and issued an emergency order allowing him to take land from any city department for use as a safe rest village location. It was one of three emergency orders he's issued aimed at the homeless crisis this year. All shelters are now expected to open by the end of 2022.
"

Finally, we have the amount of resources we need. But we also have stakeholders that haven't been at the table before and we have to let them in."

— Dan Ryan, a candidate for Portland City Council
The commissioner said he's neutral about the nonprofit advocacy group People for Portland's proposed ballot measure to sharply change Portland's approach to homelessness. The group has proposed a November ballot measure to reroute money voters approved for services to keep people at risk of homelessness in their homes — rent support, addiction help, mental health counseling — and instead, put it toward emergency shelter. (The money comes from a 1% tax placed on affluent residents.) The measure would also require cities to enforce any campings bans they have on the books.
Ryan said he believed the high-earners who are now paying the tax had a right to weigh in on how the money is used.
"Finally, we have the amount of resources we need," he said. "But we also have stakeholders that haven't been at the table before and we have to let them in."
Among his other accomplishments, Ryan counts teaming up with Commissioner Mingus Mapps to make the city's much-despised permitting system less of a headache and "disrupting the narrative of housing first versus shelters." Upon entering office, Ryan said he was surprised at what he saw as many of the county officials bird-dogging the creation of housing at the expense of other necessities. He says he's worked to push a "service-first" approach where the priority is bringing services to people experiencing homelessness.
Through it all, Ryan has kept a lower profile than most of his colleagues, preferring to do most of his negotiating out of the public eye.
"If the typical Portland was sitting on the bus or the bar next to Dan Ryan, I doubt they'd know they're sitting next to a City Council member," said pollster John Horvick, with Portland-based DHM Research. "I don't think has really captured Portlander's imagination, and, frankly, that's to his benefit right now. It's better to be an unknown figure on City Council than the one people are drawing their attention to."
Ryan's term, while quiet, has been punctuated with the occasional bout of controversy. He drew the ire of many of the city's progressives last May when he voted to hold off on fully funding Portland Street Response, an unarmed emergency response program that dispatches a team of health workers and a paramedic to calls for people in a mental health crisis. And after telling potential voters that he would be supportive of substantial cuts to the police bureau, he voted against an $18 million cut to the bureau's budget. He said at the time the cuts weren't thought out and represented "a threat to our current public safety."
That night, protesters stormed his house, chucking eggs and cracking two terracotta planters. It was one of several instances in which demonstrators marched to his home. (Ryan said he consulted with his neighbors before running for office again as his house had been targeted so many times.)
Ryan said the contentious vote was just him sticking to his convictions.
"I was told by every political person: I made a terrible mistake, and I'll never get reelected," he said. "I think I showed you that I was an independent person."
A challenge from the left
But to a faction of the city who hoped he would walk alongside the most liberal members of the council, those votes felt more like a betrayal of the progressive ideals he espoused in his initial campaign.
AJ McCreary counts herself in that camp. She says her opponent has waffled on some of the original promises he made and seems far too content with the status quo.
"If you talk to me, you're gonna figure out my values. … It's gonna be pretty, pretty, pretty obvious and pretty loud. It's not gonna be something I'm dancing around," she said. "Dan Ryan, what are your values? You say one thing, and then you say something else."
McCreary is perhaps best known locally for her leadership at the Equitable Giving Circle, a small nonprofit that works to distribute food and provide housing support to Portlanders of color. Two years after co-founding the group, she says it now feeds roughly 375 community members weekly. A single mother of a 15-year-old, she also started a mutual aid group called Mxm Bloc in the summer of 2020 to provide food, clothing, and financial support to parents in need.
McCreary said that if elected she'll work to abolish the practice of sweeps, reinstate the rent moratorium, push for more parks in low-income neighborhoods, and support businesses owned by women and people of color. She also has advocated for dismantling the police bureau's Crisis Response Team and Behavior Health Unit — police teams that deal with people in a mental health crisis and victims of traumatic events, respectively — and reallocating the funding to the Portland Street Response.
She also says she's supportive of increasing the region's shelter capacity if there's a permanent funding source for the beds. But she said was unimpressed with Ryan's push to complete the Safe Rest Villages, which are meant to be temporary and will support a maximum of 60 pods per village.
Big money on Ryan's side
McCreary would be the second Black woman ever elected to the Portland City Council. The first is Hardesty, with who McCreary says she sees herself closely aligned politically. Hardesty is also running for re-election this May. The commissioner has not made any endorsements in this race, though has said she'd consider backing Ryan had he asked for it. Ryan said the two decided it was best to stay out of each other's races.
A political action committee backed largely by people in the real estate industry is attempting to keep both Hardesty and McCreary out of city hall. Organizers of the PAC, Portland United, say they plan to spend $700,000 to support Ryan and political newcomer Vadim Mozyrsky, a centrist challenger to Hardesty.
All prominent candidates in the two races are taking part in the city's Open and Accountable Elections program, which aims to reduce the influence of big money in Portland politics by limiting the contributions participating candidates can take. In return, candidates get their small-dollar donations matched sixfold by the city.
"

If we're creating a program to help level the playing field or to be intentional about getting more diverse voices into this space, then it's very problematic that we are undermining that program so loudly."

— AJ McCreary, a candidate for Portland City Council
McCreary questioned the point of a public campaign finance program at all when wealthy donors can so easily work around it.
"If we're creating a program to help level the playing field or to be intentional about getting more diverse voices into this space, then it's very problematic that we are undermining that program so loudly," she said.
McCreary has received a little over $34,000 in contributions to Ryan's $116,000. She's earned endorsements from State Sen. Akasha Lawrence Spence, who had briefly planned to run against Ryan, as well as a handful of progressive groups, including APANO and the local chapter of the Sunrise Movement and Our Revolution. Some of the city's most influential endorsements have gone to Ryan, who counts the local chapter of SEIU, the Portland Business Alliance, and the Basic Rights Equality PAC as some of his backers.
Ballots in the May 17 primary are in the mail. To win outright, a candidate needs to get over 50% of the vote. If that doesn't happen, the top two candidates will race against each other in the November general election.