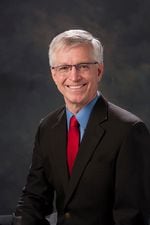 The candidacy of a Camas man running for Washington state House is officially being challenged in court, days after local election officials said he didn't live at a home he listed when he filed.
On Monday, Clark County residents Carolyn Crain and Penny Ross filed a lawsuit seeking to stop retired airline pilot John Ley's name from appearing on the August primary ballot. Ley is running to represent the 18th Legislative District.
The lawsuit calls on Clark County Auditor Greg Kimsey to deem Ley's candidacy invalid. The suit contends Kimsey and other local elected officials have the power to strike Ley's name in this case.
On Friday, Kimsey ruled that Ley "did not reside" at the Battle Ground home listed on his voter registration when he filed for office in the district. Ley, a longtime Camas homeowner, said friends verbally agreed to let him rent a room for $1 a month.
Despite ruling Ley wouldn't have been eligible to vote there, Kimsey contended he lacked authority to change Ley's candidate status. Votes for Ley would also be counted, he said.
Kimsey stands by his findings and welcomes a legal decision, he said in an interview Tuesday.
"It's clear to me that state law does not give me authority to remove John Ley's name from the ballot. However, it's also clear to me that John Ley was not a resident in the district of the office for which he filed," Kimsey told OPB. "I'm hoping that a judge can reconcile that."
Ley, who is running as a Republican, said after the ruling that he planned to stay in the race. Reached by text message Tuesday for his reaction to Crain's filing, he said he would "rather put this entire episode behind us."
"It's not that I have anything to hide," he said. "I don't."
Crain, a fellow GOP member who said she is motivated by making sure people are appropriately represented, said Ley has the ability to end the issue.
"If John Ley wants this to go away, he should withdraw," Crain wrote to OPB.
Washington law requires would-be candidates to be eligible voters for the office they seek. Registering to vote at a new address requires only that a person has lived at the address for 30 days prior to the next election.
At the heart of this case, though, is the question of how much power auditors wield on matters of candidate eligibility.
When Crain disputed Ley's voter registration, she did so expecting it would undo his candidacy, too. The challenge triggered a hearing in which Kimsey cross-examined Ley and Crain after reviewing evidence.
Although the auditor ultimately ruled that Ley's voter registration in Battle Ground wasn't valid, it would have only impacted his ability to vote. The office, state officials contend, has little more authority than that.
"There is no responsibility on the auditor beyond confirming that the voter registration is at an address within the district," Randy Bolerjack, a spokesperson for the Washington Secretary of State's Office, told OPB on Friday.
Like Kimsey, Bolerjack echoed that challenging a person's candidacy should be decided in an official courtroom.
However, in their filing, Crain and Ross take direct aim at that argument. They point to a statute in Washington law that says a candidate's name can't appear on the ballot if they aren't "properly registered to vote" in the district.
In that statute, it also states "the officer with whom declarations of candidacy must be filed under this title shall review each such declaration filed regarding compliance with this subsection."
Crain and Ross contend Kimsey and others in the election office "are required by law to remove John Ley's name from the 2022 election ballots."
However, county attorneys don't think that statute applies to cases like Ley's when the voter challenge occurs at a later date, rather than catching an issue with a candidate's voter registration immediately.
When a candidate files, Bolerjack said, auditors rely on the their voter registration to "establish a number of eligibility requirements, age, citizenship and residence address."
In correspondence attached to the lawsuit, deputy prosecuting attorney Amanda Migchelbrink, who acts as Kimsey's legal counsel, wrote to Crain's representative that they "do not believe (the statute in question) applies" to Ley's case.
Kimsey noted that the process, so far, has worked as intended. Crain, as a private citizen, challenged Ley's eligibility and spurred the hearings process.
"County auditors and elections officials are require to process documents that are submitted to us based on the information contained within the four corners of that document," Kimsey said. "We do not have the authority to investigate the truthfulness of the information on that document, which the person signed an oath to affirm to be true."
Ballots for the August primary with Ley listed as a candidate have already been printed. More than 300,000 ballots were printed two weeks ago, Kimsey said. The cost to reprint, if ordered by a judge, would be about $270,000.
If a judge did order Ley ineligible, Kimsey added, he hoped that decision wouldn't call for a reprint but instead a disqualification of any votes for Ley.
With the Aug. 2 primary coming up quickly, the auditor worried about new ballots making it to voters in time.
"It's entirely impractical to send out new ballots," Kimsey said.
Crain, who has challenged candidates' eligibility in the past, including a recent unsuccessful challenge to a Port of Vancouver commissioner, said she believes the issue is exposing a legal loophole she wants to see closed.
"When this is all over, I will be working on amendments to the law in order to decrease the chances of any more of this occurring," she said.