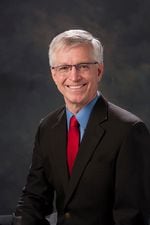 Come August, any voter who marks their ballot for Washington state House candidate John Ley will find that vote effectively goes nowhere.
A Clark County Superior Court Judge on Friday declared that Ley, a Camas homeowner who rented a room in a friend's house for $1 a month to run for office in another district, is ineligible for Washington's 18th Legislative District.
While votes for Ley in the Aug. 2 primary will technically be counted, they won't advance him to the November general election. Per the order from Judge David Gregerson, local officials "shall not ... include votes cast for John Ley" when they certify the primary votes.
Carolyn Crain, a Clark County resident who challenged Ley's claim he lived at the Battle Ground home he listed as his address when he filed to run, said she was "amped" by the order.
"We guaranteed voters in the 18th that two legitimate candidates will be advanced," Crain said. "I wanted to make sure the voters had the opportunity to vote for legitimate candidates."
Ley did not respond to requests for comment by press time.
Clark County Auditor Greg Kimsey, the top local election official, told OPB that voters should know little has changed about how the election is conducted.
"I think a really important point to make note of is when voters receive their ballots today and next week, when they return their ballots to us, they will be processed and tabulated as normal," Kimsey said.
Clark County will have to send out approximately 54,000 mailers to people living in the district. Kimsey said he hadn't yet calculated the cost of printing and mailing those ballots, but confirmed they will paid for by taxpayers.
Friday's order effectively leaves three remaining candidates: Democratic registered nurse Duncan Camacho, Republican attorney Greg Cheney and Republican Brad Benton, whose father is a prominent firebrand politician who recently served in the Trump Administration.
Ley's campaign came to an end almost as quickly as it started. He filed May 17, only for Crain to challenge nine days later. The challenge triggered a formal hearing presided over by Kimsey, who reviewed evidence and cross-examined Ley and Crain.
In the hearing, Ley testified that he rented a room in a friend's home for $1 a month. He contended that many times in his life in the military and his career as a commercial pilot, he was registered to vote at a home where he didn't spend the majority of his time.
On July 8, Kimsey ruled the retired airline pilot "did not reside" at the Battle Ground home. However, Kimsey said he did not have the legal latitude to make changes to the ballot.
Crain, joined by fellow Clark County resident Penny Ross, filed a lawsuit July 12. State Rep. Drew Stokesbary, R-Auburn, represented the duo in court. They argued for the auditor to strike Ley from the ballot entirely.
However, Gregerson on Thursday ruled against reprinting ballots, The Columbian newspaper reported.