John Ley wanted to court voters. Now, he's just going to court.
Eighteen months after he filed to run for a Washington state House seat, Ley, 68, is facing two criminal charges of felony voter fraud. He's set to go before a judge Nov. 28.
The Republican drew headlines in spring 2022 when he filed his candidacy. Although he had owned a two-storey home in Camas, Washington, for more than two decades, he used a new address to run for an open seat in a district near the city of Battle Ground, about 15 miles north of Camas.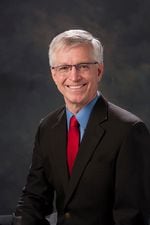 In an interview with OPB at the time, the retired airline pilot said he rented a room at a friend's house. When asked if he had slept there within the last month, Ley said, "I don't know off the top of my head."
Ley's campaign never made it to Election Day. Washington law requires would-be candidates to be eligible voters for the offices they seek. On July 16, 2022, a Clark County judge deemed Ley ineligible.
Ley's efforts to finagle an address specifically for the election led to a criminal investigation. Court records show he is suspected of breaking state laws for knowingly lying on his voter registration and on his candidate filings. Both are class C felonies.
Ley did not respond to OPB's requests for comment Saturday.
Related: Washington House candidate John Ley deemed ineligible by judge
Determining where a person lives, as a legal distinction, can be a gray area. Washington laws around voting define a residence as a place where a person "physically resides and maintains his or her abode."
In the interview on May 27, 2022, Ley told OPB he believed he could "rent a room (in Battle Ground) and legally change my voting address if I wanted to." He later said during official hearings that he paid a friend to rent the room for $1 a month.
Ley said he specifically wanted to run in the Battle Ground district to gain a seat on a bistate committee overseeing the replacement of the Interstate 5 Bridge. Ley has been a vocal opponent of the megaproject. In the interview, he called it a "huge waste of taxpayer money."
Related: Lawsuit filed to disqualify Washington House candidate John Ley for living outside district
Citing OPB reporting and communications with Clark County Auditor Greg Kimsey, investigators reviewed Ley's official filings and obtained search warrants for his cellphone data to rough-out his location at the time he filed.
"Between the dates of 1 April 2022 and 17 May 2022, John Ley's cellphone records showed a total of 13,143 data points," Clark County Sheriff's Office Sgt. Jayson Camp wrote in an affidavit supporting the criminal charges.
According to Camp, the data points near Battle Ground indicate Ley spent "a few hours" in the Battle Ground area on May 8.
"This would indicate that John Ley's cellphone was not at the address at the time of the events," Camp wrote. "Ultimately, I determined beyond a reasonable doubt that John Ley did not live or reside at that address during that time."