Portland voters elected civil rights activist Jo Ann Hardesty to fill the seat of retiring Portland Commissioner Dan Saltzman. She is the first woman of color to serve on Portland City Council.
Hardesty led with 62 percent of the vote in unofficial returns while Loretta Smith had 36 percent.
"I can't wait to see what she'll do," said John Mayer, a Hardesty supporter who was waiting for her to take the stage Tuesday night.
The Norman Sylvester Band got the crowd at Hardesty's party on their feet. Hardesty took the stage shortly before 8:30 p.m., as the band played Bob Marley's "Get Up, Stand Up" and the crowd cheered "Jo Ann!"

After her speech, Hardesty got on the floor and started dancing — alongside one of her youngest supporters, 7-year-old Forrest Matlow Bach.
Hardesty was the first person to declare her candidacy, originally as a challenger to Commissioner Dan Saltzman. Shortly after she announced her challenge, Saltzman decided not to seek a sixth term.
Congratulating Hardesty, he said the city needs new voices at the helm as it grapples with economic inequality.
"We should all rejoice in electing the first African-American woman to the City Council," he said. "The growing inequality we all see is having a profound impact on our public resources and more and more people are looking to their local government for answers and help.
"This is a very appropriate ending today. I think me and my opponent, we really raised the level of consciousness of community members about issues," said Loretta Smith, in her concession speech.
"And those issues are very real because Portland has changed since 1944. It has changed so much. Housing is not affordable anymore. The unprecedented prosperity that we've had for the past five to seven years, there are a lot of folks in our community who have not experienced that prosperity and that is the voice I wanted to lend to the city of Portland," said Smith.
Hardesty is a civil rights activist and consultant who ran on a long record of public service. It includes her stint in the U.S. Navy from 1978 to 1984 as one of the first women to serve on a ship and two terms as an Oregon state legislator from 1997 to 2000. More recently, she led the Portland chapter of the NAACP and served on the boards of several nonprofits.
"We have big problems in this city but I am proud to be joining commissioner Amanda Fritz and Commissioner Chloe Eudaly. And I'm even going to be joining mayor ... what's his name? Ted Wheeler, and of course Commissioner Nick Fish," Hardesty quipped.
Hardesty ran a strong grassroots campaign, coming in well ahead of the other four candidates in the May primary and raising more than $400,000 from a broad network of supporters, with an average contribution of $150.
"I am so proud of all the incredible 1,900 individual donors, over 32,000 doors we knocked on. I am proud to say that this is the Portland I thought it was," Hardesty said.
"I thought this was a city of compassionate people, empathetic people, people who believed we can do better than jail cells for people who are houseless."
Hardesty's election could lead the council to adopt more liberal policies, particularly on issues related to homelessness and police oversight. For example, she has said on the campaign trail that the city should reduce its sweeps of homeless camps, and she promised to push once again to withdraw the city from the FBI's Joint Terrorism Task Force.
Shortly after her speech, Hardesty embraced Ibrahim Mubarak, a longtime advocate for homeless Portlanders and a founder of two organized camps, Dignity Village and Right 2 Dream Too.
"It means we have another voice in city hall," Mubarak said, noting that Commissioners Chloe Eudaly and Amanda Fritz are already outspoken advocates for Portland residents struggling to stay housed.
"Those three women are going to help people understand that houseless people are human," he said.
Hardesty was endorsed by Commissioners Eudaly and Fritz, prompting speculation that the three could form a coalition with enough votes to shape the council's agenda. Fritz and Eudaly do not always vote together, but both have been voices of dissent on parts of Mayor Ted Wheeler's agenda.
Tenants rights activist Margot Black was also among the crowd celebrating Hardesty's victory. "It's a very very good day for renters," she said. "Eat your heart out."
Portland is the last remaining major city in the United States with a commission form of government, in which members of the city council serve as city administrators overseeing services, as well as legislators.
"When I first supported her, people said to me, you can't support her. She has sharp elbows and a sharp tongue. And I said, yes, but she has a sharp mind, and she's committed to people in this city. And I've supported her the whole way," said former Oregon Gov. Barbara Roberts.
Wheeler, who makes bureau assignments, has said the new commissioner will oversee the same public safety portfolio assigned to Saltzman: Portland Fire & Rescue, the Bureau of Emergency Communications, the Bureau of Emergency Management and the Fire & Police Disability & Retirement Fund. Hardesty and the mayor will share oversight of the Portland Children's Levy and the Gateway Center for Domestic Violence Services.
"I did my research on Jo Ann," Wheeler said Tuesday night. "I spoke to a lot of people who worked with her in the Legislature and they said they found her to be a collaborative partner even if they didn't agree on particular issues. They always found her to be above the board."
"Jo Ann and I have had disagreements. We've had agreements. We've had conversations. And on the whole I believe we're going to have a very, very positive and productive relationship in the years ahead," said Wheeler.
Saltzman, who served five terms on the City Council, is famously laconic, publicly and privately: His mother once told an Oregonian reporter she learned more about his work from reading the paper than from talking with her son.
While quiet, he was considered an effective policy maker and advocate in City Hall.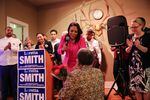 He led the effort to create the Children's Levy, a tax measure that provides roughly $15 million in annual funding for health and education programs for vulnerable children, and helped open the Gateway Center for Domestic Violence Services. During his tenure as housing commissioner from 2013 to 2016, he beefed up the city's development of affordable housing, passing an inclusionary zoning measure, helping bring a $258 million affordable housing bond to the ballot, and reallocating the city's urban renewal dollars to fund more affordable housing projects.
Saltzman has said he plans to focus on his work with children in his retirement.
"Now you know what you did to Obama, you went home, put your feet up. That is not acceptable today. We're going to work, but we're going to party first. Then we're going to take a little rest, and then we're going to come back and do the people's business," Hardesty said.