UPDATE (Sunday, Oct. 13, 2019 at 4:30 p.m. PT) — Portland Police say a prominent anti-fascist activist was killed early Saturday near Cider Riot, a Northeast Portland club and a popular gathering spot for left-wing protestors.
Related: Days After Activist's Death In Hit And Run, Portland Police Decline To Comment On Motive
Sean D. Kealiher, 23, was hit by an SUV a little after midnight. Friends drove him to the hospital, where he died.
Someone fired shots at the SUV after it hit Kealiher, and the vehicle crashed by the headquarters of the Oregon Democratic Party.
The hit and run is being investigated as a homicide, which under Oregon includes any killing another person "intentionally, knowingly, recklessly or with criminal negligence," and police are asking anyone who has information on the incident to contact them. Rose City Antifa said in a tweet that Kealiher's death "was not related to fascist activity."
No arrests have been made so far.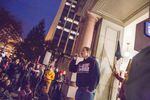 Cider Riot, at Northeast 8th Avenue and Northeast Couch Street, was the site of a brawl earlier this year between far-right protesters and club patrons. Six men were indicted for rioting in the case, and the cidery owner has filed a $1 million lawsuit against the founder of Patriot Prayer and several other men associated with the group, which has attracted white supremacists to its sometimes violent events.
Gregory McKelvey, a prominent Portland protester and campaign director for mayoral candidate Sarah Iannarone, remembered Kealiher as a young anarchist prepared to demonstrate for any cause that needed a hand.
"Every single protest, he's going to be there," McKelvey said. "He didn't care what your ideology was — if you were standing against the police or the state or authority in general, he was going to be there."
McKelvey said this love of protest earned Kealiher the nickname "13" — the age he was when he showed up at Pioneer Courthouse Square ready to rally against economic inequality during the Occupy Portland protests in 2011.
"He was known as the little kid that was camping at Occupy," McKelvey said.
Court records show that Kealiher served 15 days in jail for interfering with a police officer in 2015 but no other arrests. A far-right journalist posted two videos after Kealiher's death that he claimed show Kealiher behaving aggressively while protesting a pro-Trump student meeting at Portland State University and berating a cameraman.
McKelvey said he knew Kealiher, who described himself as an anarchist, to be "more into the research aspect of anti-fascism than street brawls." He also provided context for the second video, which he said showed a visibly upset Kealiher furious that the cameraman had posted out of context footage "made to incite hatred of the left," which had resulted in friends getting charged with felonies.
"He wanted — and always was — trying to protect his friends from violence or from arrest," McKelvey said. "For him to be upset about that in 2016,  one time, to be really upset about it ... I think is OK."
Teressa Raiford, the founder of local activist group Don't Shoot Portland and 2020 mayoral candidate, said she's known Kealiher since he showed up looking to help organize after the 2014 shooting of Michael Brown in Ferguson, Missouri.
Raiford said that even as a teenager, Kealiher was well-versed in organizing tactics, and helped members learn what to expect when protesting against groups that included white supremacists.
"He introduced to us what the dynamics look like," Raidford said. "I didn't know there were fascists groups that would attack us. I didn't know there were people who would respond violently."
"He was a beautiful soul," she added. "A kid, his age, living his life that way … that's incredible."
On Twitter, Iannarone said Kealiher's death came as a "a terrible blow to Portland's antifascist community," while Mayor Ted Wheeler called the incident "alarming and heartbreaking."
This story may be updated.