When loggers headed into the forest on Easter Sunday in 1989, they found a line of protesters blocking the road. The ensuing battle would help catapult old-growth forests into a national issue, and become known as the "Easter Massacre."
Hosted and produced by by OPB's Aaron Scott in collaboration with 30 Minutes West ("Bundyville," "Outside Podcast") and with original music by the singer-songwriter Laura Gibson, "Timber Wars" is a seven-part podcast series from Oregon Public Broadcasting. Episodes are available on Apple Podcasts, Spotify, the NPR One app and at opb.org.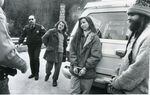 "Timber Wars" tells the behind-the-scenes story of how a small group of activists and scientists turned the fight over ancient trees and a bird that no one had heard about into one of the biggest environmental conflicts of the 20th century.
Related: 'Timber Wars' episode 2: The ancient forest
In addition to the podcast, OPB is releasing an accompanying e-newsletter series that combines the podcast with further OPB reporting to take readers through the history of this epic battle — and explores the ways it's playing out still — in stories, images, videos and more. You can explore the series here.