It's the end of an era in Canyon City. Grant County Sheriff Glenn Palmer has been ousted after five terms. Returns Wednesday morning show a double-digit lead for the head of the county probation department, Todd McKinley.
Related: OPB's 2020 election coverage, ballot guide and results
"I wasn't expecting quite that decisive, and I am well pleased that this is the people's decision," McKinley said. "I spent not a dime on this campaign and the people made the choice. That speaks volumes."
McKinley ran a low-key campaign, as the Blue Mountain Eagle reported, not wanting to further polarize people over a sheriff who makes his own rules.
Palmer is perhaps best known for his role supporting the Bundy family in their 2016 takeover of the Malheur National Wildlife Refuge. He also drew criticism more recently for deputizing his brother, who is a county commissioner, and for continuing to pay a salary to a disgraced deputy who is married to the undersheriff.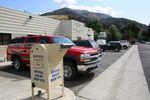 Voters in Grant and Harney counties also elected a new circuit court judge for the first time in decades.
Canyon City defense attorney Rob Raschio carried the 24th Judicial District with a decisive majority by late Tuesday night. Raschio replaces Judge William Cramer, who is retiring.
Grant County District Attorney Jim Carpenter still picked up some votes, even though he dropped out of the race and endorsed write-in candidate John Lamborn two months before the election.
A bar complaint against Carpenter is still pending, alleging he acted improperly by launching a criminal investigation into an acquaintance who recorded Carpenter without permission.
Early returns show Lamborn more than 40 percentage points behind Raschio.