Filming salmon has been a big part of my job as an "Oregon Field Guide" photographer. I've taken assignments up to high-mountain salmon-bearing streams and out on ocean-going research vessels. Along with the numerous interviews I've recorded with scientists, my work has given me a deep appreciation for the remarkable lives of these fish and the epic journey they undertake.
To me, the story of salmon in the Northwest is right up there with Homer's Odyssey in ancient literature.
Salmon are a big part of what makes nature so captivating. And now that I'm a dad, I want my son to develop an appreciation of his own for our natural world.
I was hoping to begin my 3-year-old boy on that journey of discovery this September when I took him to witness the annual return of fall chinook salmon to their spawning grounds in a stream that flows from the Cascade Mountains. But instead of sharing my awe at the returning fish, he did what any toddler would do. He scrambled as close as I'd let him get to the water's edge and hunted for sticks to splash and rocks to toss in the stream.
In many ways, he was my teacher. He reminded me to pay attention to what's right in front of me. As I watched the chinook struggle in their final hours to produce life, I knew what I would do. I would write down for my son the story of the salmon, so it would be there for him when he was ready. And maybe someday, we can sit together and share the awe and mystery of one of nature's most inspiring migrations. Before that happens, though, I thought I'd share it with you.
A Hero's Journey
What does it mean to return home? This is something the salmon know.
It's a story that's been repeated for thousands of years. Maybe millions.
Winter holds a cache of salmon eggs with thin membrane walls, cloaked in a fortress of gravel.
In spring, the eggs hatch.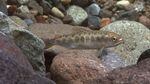 After they emerge from gravel, places to hide are critical. A boulder, a drowned log. The forest's debris can mean life or death for a tiny chinook.
Yet, the call to the ocean is strong.
Where the river meets the sea is refuge for a traveling salmon. A place to feed, hide and wait. Here, their bodies complete their transformation, adapting from freshwater to saltwater.
Then, they move to the sea. For how long depends on their species. Chinook can spend up to six years in the ocean. They spend this time well; their bodies swell as they eat herring. Their flesh turns pink from their krill-rich diet. But, there is a time when they are called home. They may have strayed a thousand miles into the sea, but from some ancient intelligence, they know. Is it chemical clues? Magnetism? Smell? Whatever the sign or signal, they embark on one of the greatest migrations on earth, the journey home.
When they reach the river's mouth, their flesh is at its fattest. For here, they will stop eating. They turn from predator to prey, swimming hard to be one of the lucky few who escape predators, both animal and human. They face rapids and dams. With their ocean silver tarnished, their last meal long ago consumed, their bodies begin to literally break down and rot. Yet, they move forward, as they have miles to go, swimming as corpses still alive.
Scientists call fish anadromous when they are capable of making this remarkable journey from freshwater to saltwater. Anadromous comes from the Greek expression, to run upward. Upward, the salmon travel, they fight upward, willed somehow to return to a very specific place, sometimes elevated hundreds or even thousands of feet above the level of the sea. They seek out the gravel where they were born.
As the river narrows to a high-mountain stream, marked by boulders and gravel, the female begins to dance. Her twists are called a "dig;" a utilitarian move, flipping her body horizontally she whips the gravel clean. She makes a nest, called a redd. There, she will lay her eggs.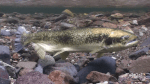 There is no dance for the male chinook. They rage. Thrashing, biting, tearing. They muster whatever spark is left in their dying bodies to savage their competition, to make their claim.
The female releases her eggs; he fertilizes them in harmony.
It is a decisive moment for the exhausted pair and a final one. Within days, they will be dead.
It's the end of a hero's journey, but there are no celebrations.
In the same stream where they were born, their carcasses litter the bank. It is an underwhelming tribute. But they have one last surprise. Inside their rotting flesh is the ocean's richness. Mountain living is hard. Trees and animals are starved for nutrients. Scientists have traced the salmon's nutrients in mosses, herbs, shrubs and trees. Like some great nitrogen conduit from sea to forest, the salmon bodies supply nutrients to hundreds, maybe thousands of species.
As the trees grow, the eggs wait — to start the journey again.