"I was raised to believe that you weren't a bum if you owned a house."
At 54, Willy Vlautin's novels have been translated into 11 languages. His characters have been played by actors such as Steve Buscemi and Chloe Sevigny in Hollywood films. His stories have found critical acclaim, including three Oregon Book Awards.
But when Vlautin first moved to Portland in the 1990s from Reno, Nevada, he says he was pretty ragged; he didn't have a lot of confidence in himself.
For a songwriter who'd grown up working in warehouses and painting houses, the thing that made all the difference was buying his first home: a derelict mother-in-law flat in North Portland.
"I'd spent, jeez, 20 years coming up with 20 grand, and the house was $70,000," Vlautin said.
Two days before he got the keys, Vlautin says, he snuck into the house with the pedal steel player from his band (the legendary Portland alt-country group Richmond Fontaine) and they drank beers in the dark kitchen. Owning his own place felt like the culmination of an unimaginable dream.
"I just couldn't believe this 480-square-foot house house was mine," he said. "It changed my life: I just kinda liked myself a little bit better."
Vlautin dedicates his newest novel, The Night Always Comes, to the Portland that allowed him to buy that house in the first place.
It's a Portland of the past.
While a self-described "hard-living housepainter" like Vlautin was able to scrape together the money to buy a home in the '90s, The Night Always Comes' protagonist Lynette is trapped in a race against a Portland that's changing rapidly — and becoming increasingly inhospitable to her working-class family. She's a 32-year-old woman working three jobs to try to buy the rental house where she's lived for 30 years with her mother and developmentally disabled brother. When a chance to buy the home finally seems within reach, her mother gets cold feet, forcing Lynette to come up with the money herself over 48 frantic hours.
It's fiction, but only barely.
"Portland's growing so fast," Vlautin said. "It's such a boom town and housing prices are going up so fast while wages aren't. And here you have this woman who sees it all happen around her and she can't do anything about it."
The growing cost of housing in cities such as Portland has been a threat to the survival of working poor families for years, but the problem has been supercharged by skyrocketing prices and vanishing housing supply during the COVID-19 pandemic. The average sale price in the Portland metro area reached $543,000 in April, according to the latest report from the Regional Multiple Listing Service.
For countless families today, that's making the difference between just getting by and being forced from neighborhoods that have been home for generations.
"The housing prices shift to such a degree that you couldn't work three jobs; you couldn't stay up 24 hours, seven days a week working a straight manual labor kind of job and afford a house," Vlautin said.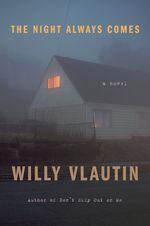 On one level, the book is a fast-paced thriller, following Lynette through a series of run-ins with dangerous people who owe her money ("manifestations of greed," according to Vlautin). But the ultimate antagonist is the changing landscape of Portland — and a broader society where the rich get richer and the poor are left behind.
"I wrote it in response to the 2008 housing crisis," Vlautin said. "That idea of trickle-down economy that we kind of keep going back to; that you gotta forego regulations. You gotta let the rich guys do whatever they want because then the money will come to the working class."
In the book, the consequences of an American culture of greed open emotional rifts within the family. As desperate as Lynette is to save their home and keep her family together, her mother has given up on the fight. Late in the novel, Lynette's mother gives a speech railing against the contemporary world.
"So this is my advice to you, Lynette," the mother says in the book: "At the end of the day just look out for yourself and screw everyone else."
"I think it just wears you down," Vlautin said. "For the mom, I think you're just seeing a person that's just tired. As you get older, the more defeats you have, it's harder to rebound from them. And I think when you're younger, you can get run over a few times and thrown aside a few times and you still believe that you can make it."
It's not a story with a fairytale ending, but the book is not a total tragedy, either. Vlautin says he loves being with his characters as he writes them. He's using his fiction to reflect the challenges he sees working people face every day, or has lived through himself. It's honest and occasionally cathartic.
"I put them in rough situations, but a lot of people have rough situations," he said. "Something about being in those situations eases my own mind: I'm there with them, and I'm not worried about my own situation."
The Night Always Comes is filled with some of Vlautin's favorite real-life Portland landmarks: Slim's Restaurant and Lounge, the Original Hotcake House, Tulip Pastry Shop (which, in a cruel moment of life imitating art, has since permanently closed). Vlautin says one of the most difficult parts of barely getting by in a changing city is the uncertainty of the future while the past is still so close at hand.
"When you get a little too beat up in a place," Vlautin said, "it's like when you break up with somebody and then suddenly you can't even drive past that neighborhood, let alone go to the drive to the store you guys shopped at.
"It can start haunting you."
But as haunted as the characters in The Night Always Comes may be, Vlautin says he doesn't feel that way about Portland himself. For him, it's still a city full of fond memories.
"I met my wife in Portland," he said. "I met my band in Portland. I got to bet horses in Portland for whatever, 15, 17 years. I've got the coolest office in St. John's."
The book is melancholic, absolutely. But you can only truly feel that way about something you deeply love.
"It's my kind of love letter to Portland," he said, "and a sadness that the guys like me, you know, more working-class kind of guys can't own a 480 square foot, nearly abandoned, mother-in-law house."
He calls it sadness, but he says it with an ironic, nostalgic laugh.
Listen to Vlautin's full conversation with OPB Weekend Edition host John Notarianni using the audio player above