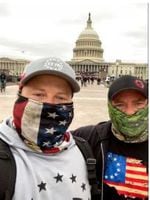 A Battle Ground, Washington, man was arrested Wednesday by the FBI in connection with the Jan. 6 attack on the U.S. Capitol in Washington D.C.
Jeremy Grace was taken into custody in Molalla, Oregon. He's charged with unlawful entry of a restricted building, disorderly conduct in the Capitol building or grounds and other charges.
He was arraigned on the charges in federal court in Portland on Wednesday and not detained.
In January, the FBI contacted both Jeremy Grace and his father, Jeffery Grace, after the agency received a tip from a confidential witness who had a family member that was an acquaintance of Jeremy Grace. By February, the elder Grace was charged in connection with the riot.
When the FBI interviewed Jeffrey Grace at his home Jan. 21, he wore what appeared to be the same jacket he had on when he entered the U.S. Capitol.
"Jeffrey stated that he traveled with his son Jeremy to Washington, D.C., for sightseeing and to attend the rally for President Donald Trump on January 6," court documents state. "During the rally, Jeffrey got separated from his son and began walking with a group of people toward the U.S. Capitol Building."
Jeffrey Grace told agents he walked past two Capitol Police officers on his way into the building and eventually walked into the rotunda.
"Jeffrey stated that the law enforcement officers appeared to be overwhelmed by the number of protesters and looked scared," the FBI wrote in court documents.
He told agents he didn't believe his son entered the building and that while he had his cellphone with him Jan. 6, he didn't take any videos or photographs.
On Jan. 25, FBI agents called and interviewed Jeremy Grace, who, like his father, told agents they visited Washington, D.C., to see President Trump's speech, and that he got separated from his father "when things got crazy" at the rally. He also said he didn't enter the building.
In court documents, the FBI states agents obtained a search warrant Feb. 4 for Jeffrey Grace's cellphone, where they discovered several videos he had attempted to delete. The videos were taken by his son and depicted the two men together inside the U.S. Capitol.
In one video, recovered from the "trash" folder of Jeffrey Grace's cellphone, father and son are repeatedly shouting "Our house" in a selfie style video outside the U.S. Capitol. Another depicts both men together inside the building's rotunda.
"Jeremy says, 'Just made it into the Capitol here. Oh yeah, oh yeah.' Jeffrey says, 'It gets no better than this.' Jeremy then says, 'Freedom.' Jeffrey says, 'God bless America.'"
One screenshot from the video shows Jeffrey Grace putting three fingers together in an "ok" sign.
"In my training and experience, this hand sign is sometimes associated with members of 'white power,' 'Proud Boys,' and 'Three Percenter' groups," an FBI agent stated in court documents.
The Proud Boys are a far-right group who have engaged in violence during protests in Portland. Some of the group's members and leaders face conspiracy charges and are suspected of organizing aspects of the Jan. 6 attack. Three Percenters are a far-right, anti-government extremist group that had members participating in the attack on the Capitol.
During his Jan. 21 interview with the FBI, court documents state, Jeffrey Grace said he was not a member of "group that advocated violence but that he knew people who were members of the following groups: Three Percenters, Proud Boys, and 1% Outlaw Motorcycle Gang."
Agents said they also saw Jeffery and Jeremy Grace on the security cameras inside the Capitol rotunda and, through a search warrant from Verizon, saw Jeremy Grace's cellphone number pinged a cell tower in Washington, D.C., near the Capitol.