As Oregon enters the home stretch of its 2021 legislative season, members of the House and Senate are meeting in marathon floor sessions to vote on dozens of bills each day with wide ranging implications.
From establishing a commission to regulate Oregon's hemp industry, to calling on the U.S. Congress to consider reparations for descendants of formerly enslaved people, the Legislature's body of work this year provides a glimpse into the issues that are important to Oregonians.
Reparations and slavery
On Wednesday, the House voted in favor of Senate Joint Memorial 2 and 4, a pair of resolutions that urge Congress to examine the implications of certain language in the 13th Amendment to the United States Constitution that deal with the abolishment of slavery. It also asks the federal legislature to consider reparations for the descendants of formerly enslaved people.
SJM 2 seeks to have Congress omit language in the 13th Amendment that allows slavery as punishment for the conviction of a crime. The purpose of SJM 2 is as much ceremonial as it is cultural, aiming to close the loop on language that is considered to perpetuate systemic racism in the US.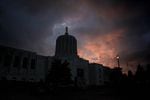 SJM 4 has a similar purpose but takes the effort one step further, reinvigorating the conversation around reparations — direct payments or annuities — for those whose ancestors were once enslaved. It's a controversial topic, central to the greater dialogue taking place in the U.S. at this moment following last summer's racial justice protests and calls for greater equity among communities of color.
SJM 2 passed along a party line vote in the House Wednesday — 39-19 — with some exceptions, including "yes" votes from Rep. Cedric Hayden, R-Roseburg, Rep. Rick Lewis, R-Silverton, Rep. Boomer Wright, R-Coos Bay, and Rep. Ron Noble, R-McMinnville. Those four Republican House members voted against SJM 4, which passed 35-23.
Both resolutions passed the Senate on similar votes in April and the request will be sent from the Oregon Legislature to Congressional leaders.
Access to identification
House Bill 3026 passed 22-7 through the Senate Wednesday. The bill directs the Oregon Department of Transportation to waive fees associated with issuing identification cards for houseless Oregonians. Co-sponsored by Rep. Zach Hudson, D-Troutdale, and Rep. Lily Morgan, R-Grants Pass, aims to ease access to obtain the vital documentation for unhoused individuals, as well as relieve them of fees when renewing or seeking a replacement copy.
Sen. Sara Gelser, D-Corvallis, carried the bill in her chamber, explaining to her colleagues that being unhoused makes it very difficult to keep one's belongings safe.
"Unfortunately, a replacement card can be expensive, and that fee can be prohibitive to an individual accessing that card," Gelser said. "This is a good bill that will get an ID into the hands of individuals who need it to be able to get back on their feet, and to find housing."
On a 26-3 vote, the Senate approved another bill dealing with DMV procedure. HB 2523 will waive reinstatement fees for those whose driving privileges are suspended under certain conditions. The bill aims to provide respite for people whose licenses are essentially being "held hostage in lieu of payment."
Sen. Michael Dembrow, D-Portland, carried the bill on the Senate floor and told his colleagues that it will help many low-income Oregonians who have run afoul of traffic laws, yet are unable to pay to reinstate their driving privileges.
Sen. James Manning, Jr., D-Eugene, said that this will prevent people from falling into a cycle of fees that prevents them from getting ahead.
"When you have people that need to get back to work, or go to school, you hold their driver's licenses hostage for a payment so they spend their time gambling whether or not they're gonna be stopped by law enforcement," Manning said. "And now they're driving without a license, they get another ticket, they get another fine and it compounds to get worse and worse."
Commercial rent
Commercial tenants in Oregon who have yet to catch up on back rent from April 1-Sept. 30, 2020, will now have until Sept. 30, 2021, to repay landlords, following the Senate's passage of HB 2966.
The bill, approved 25-4 by the Senate Wednesday, declares an emergency that takes effect immediately upon the signature of Gov. Kate Brown, whose desk it now sits on.
The extended grace period for nonresidential rent comes after the initial grace period expired in March and Oregon business owners called for more time to repay. The bill is retroactive to March 31, and would prevent any eviction proceedings still in process from being completed until Oct. 1.
Regulation of substances
HB 3140 passed unanimously through the Senate and makes a technical fix to Oregon statute to include psychedelic mushrooms as an intoxicant listed under substances for which an individual can be charged with driving under the influence, or DUII. The effort comes as Oregon voters approved supervised medical use of psilocybin mushrooms at the ballot box last fall.
On a 26-3 vote, the Senate passed HB 2284 establishing the Oregon Hemp Commission, the government body that will provide regulatory oversight and guidance to the state's budding hemp industry. The commission is specific to only cannabis sativa with a THC concentration complying with the state's department of agriculture's definition, which was raised in 2020 to include any product with no more than 10 milligrams of THC per container. Its purpose will be to monitor methods and practices, promote cooperation among members of the industry and other agriculture sectors and review products for approval.
"The hemp industry has burst onto the Oregon landscape more suddenly and with as much economic potential as any crop we can remember," Sen. Jeff Golden told his colleagues Wednesday. "This very sudden change has been disruptive. We need some knowledgeable and dedicated people to figure out solutions to a number of challenges. The Commission's activity will include the strong involvement of Oregon State University to provide research support to increase crop productivity and profitability and foster sustainable agricultural and water efficient practices."