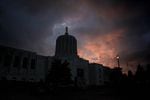 Local governments throughout Oregon will be required to give at least three days' notice before clearing homeless camps, under a bill headed to Gov. Kate Brown.
The House of Representatives passed House Bill 3124 by a 40-18 vote on Wednesday morning, adopting tweaks passed by the Senate and putting the final legislative stamp on the bill.
Not long after, the state Senate approved the final passage of another bill dealing with unsheltered homelessness: House Bill 3115, which sets state restrictions for how cities can enforce anti-camping laws.
Together the bills add more uniformity to how camping is regulated in a state that has one of the highest rates of unsheltered homelessness in the nation.
HB 3124 extends by two days the notice local governments must give before clearing out homeless campers and their belongings. State law currently mandates notice be posted at least 24 hours in advance of a sweep. If Brown signs the bill, that would increase to 72 hours.
"The effort in this bill is only to add a little bit more dignity and respect to individuals who find themselves homeless when it becomes necessary to remove or move the camp," Rep. John Lively, the bill's chief sponsor, said of the proposal last month.
HB 3124 has been supported by homeless advocates, who say it would give people more time to gather their belongings and talk to social service providers before their camp is cleared.
"This is a small step forward that will really mitigate the struggles of our clients who have no other option," Sybil Hebb, executive director of the Oregon Law Center, testified in May. Hebb added that the law center, which advocates on behalf of homeless Oregonians, had "grave concerns" about camp sweeps in general.
Besides requiring more notice, HB 3124 requires that governments collect valuables left at a campsite, and store them for at least 30 days at a site within the "same community" from which they were collected. In Multnomah County, such facilities must be located within six blocks of a public transit station.
The bill ensures that cities can donate uncollected items to charity. And it creates a loophole to the 72-hour notice rule if a camp is located within a cemetery where a funeral is imminent.
The bill saw little pushback, but did spur concerns from the City of Portland, which said in March that the 72-hour requirement "would create challenges by preventing us from intervening in severe circumstances."
The city also bristled at a proposal, later scrapped, that would have required cities to store collected belongings for at least 90 days. Portland officials face a class-action lawsuit accusing the city of flouting current laws around storing belongings collected when camps are dispersed.
After HB 3124 passed on Wednesday, a spokesman for the City of Portland suggested the city's concerns over the bill had been allayed. The city already provides 48-hour notice before clearing camps.
Portland "will adjust operations to provide a minimum of 72 hours notice before removing high-impact campsites," spokesman Mark Alejos said in an email. "This additional day of notice will not affect our work to protect community health and safety. Our focus remains on reducing the impacts of homelessness by providing services such as resource referral, garbage clean-up and hygiene access."
Last month, the city announced it was adopting "a more assertive approach" to dispersing problem campsites, after slackening enforcement at the outset of the pandemic.
HB 3115, introduced by House Speaker Tina Kotek, requires local governments around the state to adopt policies that are "objectively reasonable" in regulating when, where and how people can live outdoors, as the state's housing crisis grows direr. If cities enforced more restrictive measures, impacted homeless people could sue.
HB 3115 provides far less protection than an outright ban on anti-camping policies, which some lawmakers and advocates for the homeless have sought in recent years.
It would instead require that local laws addressing "sitting, lying, sleeping or keeping warm and dry outdoors on public property must be objectively reasonable … with regards to persons experiencing homelessness." The bill does not offer guidance about what "objectively reasonable" means.
According to advocates and government representatives who developed the bill, HB 3115 is meant to ensure that cities and counties comply with a series of recent federal court rulings that governments cannot criminalize camping or issue fines if people have no other place to go.
"This bill is one piece of a much bigger effort to address Oregon's housing crisis by increasing the state's supply of affordable housing, supporting Oregonians who are experiencing homelessness, preventing evictions and foreclosures, and reducing housing disparities for communities of color," Kotek said in April when the bill passed the House.
HB 3115 passed the Senate on an 18-10 vote, largely along party lines.