City crews began to clear out a large homeless encampment at Laurelhurst Park in Southeast Portland on Thursday, three days after the city posted a notice to vacate the site.
Portland Police and biohazard crews from Rapid Response Bio-Clean arrived at the encampment Thursday morning near Southeast 37th Avenue at Oak Street to dismantle the campsite and evict the remaining campers. Legal observers from the American Civil Liberties Union were monitoring the dispersal.
The sweep came after months of uncertainty over the fate of the longstanding camp. Residents in the area had called for the city to address the growing encampment, which they felt presented a public health hazard. Homeless advocates said unhoused Portlanders living in the park had nowhere else to go and scattering people in the middle of the pandemic presented its own public health risks. The city had signaled multiple times in recent months that it would be sending teams to dismantle the camp, but never did.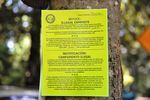 On Monday, the city posted a notice for campers to vacate the area. City officials said in a statement that staff had visited on a near-daily basis to provide services such as trash removal and portable toilets, but following a recent incident in which campers reportedly brandished firearms "in the presence of a service provider," campers would no longer be allowed to remain in the area.
"The situation has devolved into something unsafe and unhealthy for everyone involved," the statement from the five council members read. "Unfortunately, we are no longer able to serve the unhoused community near the park."
Stop the Sweeps, a homeless advocacy group in Portland, has said they believed the city was using the firearm incident as an excuse to disperse the camp and suggested the account was fabricated.
The evictions came hours before extreme heat is expected to blast the region. The temperatures are expected to approach triple digits in the region on Thursday and Friday, meaning people will be looking for a new place to camp in the midst of sweltering heat. The county has opened two cooling centers and the city opened three outdoor misting centers. Officials have also put together a map of where people can find air conditioned spaces.
The city has said it will try to find shelter and services for those at the camp who want them. Many at the camp have said they are not sure where they will go once evicted from the area. Justin McFeely, a former landscaper and painter, told OPB earlier this week that a sweep will simply force him to move elsewhere.
"It's extremely hard to get back up on one's feet from the very, very bottom," he said.
This story may be updated.