If members of Congress don't reach a funding agreement by the end of Thursday — the last day of the federal fiscal year — the federal government will officially close Friday morning.
Here's a rundown of what a government shutdown might mean for Oregon and Southwest Washington, which updates a primer we prepared during the 2018-19 government closure.
How much might the average person notice a federal shutdown?
If you're not a federal employee — or the family member of one — it may not affect your daily life significantly. If you get Social Security, your check should continue to arrive in the mail. Federal screeners and flight controllers will still be working at airports, so planes will be flying as usual as well.
But you could run into trouble if you want to apply for a passport and need it quickly. The same applies if you're trying to work out a problem with the Social Security Administration, the Veterans Administration or the IRS.
Other programs could face problems too. For example, funding for the Supplemental Nutrition Assistance Program is secure, but a shutdown could affect the government's ability to distribute the benefit, according to the Committee for a Responsible Federal Budget.
"Failing to fund the federal government past the end of the month would cause massive disruptions for employees and all citizens who depend on them," said Everett Kelley, the national president of the American Federation of Government Employees.
"Federal employees are working diligently to serve the American people while responding to a series of concurrent national emergencies, including the coronavirus pandemic, the horrific wildfires out west, and one of the most active hurricane seasons in years."
How would the region's federal workforce be affected?
There are about 28,000 federal workers in Oregon, and another 3,400 in Clark County, Washington. Each federal agency has its own shutdown plan, but workers can be put into three general categories:
About a third are not affected because they work for the U.S. Postal Service, the Bonneville Power Administration or other agencies with their own funding mechanisms.
Another third will be told to stay on the job because they are essential for public safety. That list includes airport screeners, air traffic controllers, border protection workers, federal law enforcement, in-hospital medical care, the military, power grid maintenance staff and Veterans Administration caregivers. They'll be expected to keep working, but won't get paid until after funding starts flowing again.
The last group — also about a third of the local federal workforce — won't work during a shutdown. They include part-time workers for agencies like the Forest Service. In previous shutdowns, Congress has paid furloughed workers afterwards, but there is no guarantee.
The Oregon Employment Department estimates about 13,000 jobs in Oregon could be affected by a federal furlough.
During the 2018 shutdown, agencies like the National Science Foundation, U.S. Fish and Wildlife, the U.S. Geological Survey, the Environmental Protection Agency, the National Institute of Standards and Technology, and the National Oceanic and Atmospheric Administration suspended their work.
"The employees just want to do their jobs. All they ask for is just to be paid for the work they do, and they don't want to be used as political pawns," said Timothy DeBolt, the Northwestern representative for the American Federation of Government Employees.
Shutdowns in 2013 and 2018 led to about 850,000 of more than two million non-postal federal employees nationwide being furloughed, according to the Committee for a Responsible Federal Budget.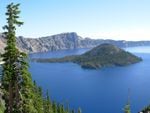 What about national parks and monuments?
We don't know. In the 2013 shutdown, national parks and monuments were totally locked, resulting in iconic photos of aged veterans denied entrance to a World War II memorial and vacationers being turned away. During the 2018 shutdown, many parks remained open, although services such as trash removal were temporarily stopped.
What about state-run programs, like the Oregon Health Plan and Temporary Aid to Needy Families, that depend heavily on federal money?
The Oregon Health Authority said it's monitoring the situation and, at this time, the agency has the resources to continue all federally funded health programs.
"Federal grants, such as those to OHA's Public Health Division from the Centers for Disease Control and Prevention, remain active," the agency said in a statement. "Neither projects funded with FEMA dollars, which are deemed essential, nor Medicaid funds should be impacted. We are encouraging Oregonians to continue to access the Oregon Health Plan, Special Supplemental Nutrition Program for Women, Infants, and Children (more commonly known as WIC), the Children's Health Insurance Program (CHIP) and other benefits."
The 2019–2021 Oregon legislative budget includes more than $24 billion in federal funds for grants, state agency funding and entitlement programs.
The Oregon Health Authority said it is also committed to WIC programs: "WIC clinics are open for business as usual; WIC participants should use their eWIC cards to continue to purchase healthy foods for their families and not miss any scheduled appointments; WIC continues to enroll any eligible person interested in WIC services; WIC-authorized grocery stores, pharmacies and farmers should continue to accept eWIC cards," according to an agency statement.
In summary, there should be little impact to federally funded Oregon Health Authority programs, unless a shutdown drags on for an extended period of time.
How would a 2021 shutdown compare to previous federal shutdowns?
If it happens, this is likely to be a large shutdown, as the current Congress has not passed any funding bills.
The last shutdown, from December 2018 to January 2019, was a partial closure as Congress had already enacted five of 12 appropriations bills. That shutdown lasted 35 days and reduced U.S. economic growth by an estimated $3 billion, according to the Congressional Budget Office.