Southern Oregon has seen record-breaking levels of wildfire smoke in recent years, leaving residents wondering what the future holds for the region.
After thirty years of living in the Rogue Valley, Teresa Safay has cleared out her Ashland home. She's moving out of the valley for good.
"I just don't feel safe here any more," she says.
Safay used to run a vacation rental business out of a wisteria-framed triplex — "just 98 steps from the Ashland Co-Op" — which was pretty successful during its first years.
"But then smoke started to play a really big influence in it all, and cancellations started coming in year after year," Safay says. "When the season that people are coming is unbearable, they don't come."
The last five summers have been rough. The Medford area was immersed in smoke for 26 days over the course of this summer, according to state data. Klamath Falls broke its own record with 41 days of smoke this year.
Wildfires and their smoke have been around for centuries. But before 2015, Southern Oregon rarely saw double-digit days of smoky air in a year. Since then, Southern Oregon has broken numerous smoke records, which has left some residents worried about the valley's future.
Last summer, smoke levels were off the charts across Oregon; the air got so hazardous that it topped off the state's air monitors. Much of that smoke came from the Almeda and Obenchain wildfires that destroyed about 2,600 homes in Jackson County.
That's when Safay decided that she needed to leave the valley. Why stay in a place where she could lose everything she has in a matter of hours? Or, at best, where she can't go outside during her favorite season?
"It's like being in a bowl of milk," Safay says. "It's just white everywhere and you can't see the sky. Last night, the full moon was so beautiful. It had been months since we got to see it."
Smoke's health impacts: the long and short of it
Southern Oregon University grad student Anne O'Shea's first summer in the Rogue Valley was marked by fear. The Almeda Fire started in town, and it was only a matter of wind direction that likely saved her new home.
This summer was also hard, when she was working on the campus farm through weeks of smoke.
"After a couple of hours, I'm out for the rest of the day because I get these throbbing headaches from it," O'Shea says.
O'Shea grew up in Northern California, so she was already somewhat familiar with smoke and fires, but not nearly at this level. She says these last two years in the valley convinced her not to stick around.
"My house smells like smoke; I go in the grocery store, you can see the smoke in the air in the store," O'Shea says. "There's not a lot of escaping it."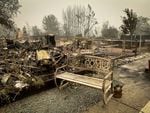 No amount of wildfire smoke is safe to breathe. It's made up of super tiny particles — it takes 30 of them to make up the width of a human hair — that can get lodged in the deep recesses of your lungs and potentially enter your bloodstream.
In the short term, it can trigger people's asthma or cause general breathing problems. The long-term effects are less studied, but there's some evidence that it could be linked to decreased birth weights and other adverse effects on pregnant women.
Many studies have concluded that the physical size of these fine particles is what makes them so dangerous to people's lungs. But new research suggests that the makeup of wildfire smoke could actually be more damaging than other types of fine-particulate pollution.
"From an epidemiological point of view, these fine particles from wildfire smoke tend to have a more harmful effect, at least in terms of hospitalizations, than the same particles that come from other sources like traffic," says Rosanna Aguilera, a staff researcher at UC San Diego.
Aguilera and her colleagues studied hospitalization data during smoky days in Southern California and published their findings this year in Nature Communications. They found that respiratory hospitalizations related to wildfire smoke are much higher than non-wildfire air pollution, even when the amount of pollution is the same.
Aguilera says toxicology studies suggest that wildfire smoke could be more harmful because of its temperature — it's generally hotter than, say, traffic smog. Still, urban wildfires that burn through large swaths of residential neighborhoods are a relatively new phenomenon, so it's hard to know exactly how inhaling those chemicals will impact people's health in the coming years or decades.
"And it's worth remembering that this is all happening against a backdrop of significant successes in terms of public health in regulating other forms of air pollution," says UC San Diego researcher Tom Corringham, who worked with Aguilera on the 2021 study.
Traffic smog and other air pollution was much worse in the U.S. before the 1963 Clean Air Act, which has since ushered in several environmental regulations. The Environmental Protection Agency estimates that the U.S. every year saves trillions of dollars in health costs and lives saved because of this law and its amendments.
"Wildfire is a much more difficult problem," Corringham says. "And so we have to start thinking about what the solutions are there."
How Oregon's responding to smoke
When the smoke gets bad, public health agencies tell people to stay indoors, but not everyone has that option.
Farmworkers and construction workers spend most of their days outside — if they don't, they'll likely miss out on the income they need. The Oregon Occupational Safety and Health Division this year passed new rules aimed to protect workers. Among the stipulations, they require employers to provide respirators to their outdoor workers. Respirators are face masks that have an N95 or KN95 rating, meaning they filter out 95% of particulates. OSHA has also provided free respirators to employers.
At the same time, though, Oregon's own health administration advises people not to rely on face respirators for protection, because those masks need to be properly fitted to a person's face, or they could be ineffective. There's also a problem with counterfeit respirators. Even properly fitted and tested respirators might only provide "some protection," according to the Oregon Health Authority.
People who are homeless also struggle to find respite from smoke, and many homes might not be well-insulated against especially bad air. Gov. Kate Brown this summer signed a massive wildfire bill that includes funding for "clean air centers" — public spaces where people can escape hazardous air.
"It could be a high school gymnasium or cafetaria or a large library," says Sen. Jeff Golden of Ashland, who helped pass that bill. "Basically, we're looking for relatively newer buildings that start with a good HVAC system, then they can retrofit those with HEPA filters and new technology."
Local governments and nonprofits will soon be able to apply for those funds through the Oregon Department of Human Services, and Golden says these clean air centers could appear as earlier as next smoke season. A clean air center could be an overnight shelter or daytime only; it's up to the grant applicant and managing agency.
Senate Bill 762 also opened up funds for the Oregon Health Authority to help low-income and medically vulnerable people buy air purifiers.
Still, Golden says these are short-term solutions to the long-term problem of climate change.
"None of that changes the very high likelihood that we have very hot, very dry, very flammable summers coming up," Golden says. "I would say we have some rough sledding ahead."