Members of one of Oregon's largest labor unions successfully gathered enough signatures to force a recall vote of one of the state's most labor-friendly lawmakers. The United Food and Commercial Workers Local 555 union submitted the 4,598 required signatures on Thursday to put the question of whether Rep. Paul Holvey, a Democrat from Eugene, should remain in office before voters.
Rep. Holvey now has the option of resigning. If Holvey doesn't resign, Lane County voters will decide whether he should remain in office in a special election held on Oct. 3.
"The disgruntled leadership of one union has spent over $200,000 on a completely misleading campaign, using paid signature gatherers, newspaper and digital ads and direct mail, so it is interesting that they barely qualified," Holvey said in an emailed statement. "Based on the feedback I have gotten as I've talked to House District 8 voters, I am confident this reckless recall will be rejected."
The union had hoped to qualify in July, but their first attempt was unsuccessful when not enough signatures were determined to be valid.
Holvey has been considered a strong political ally to labor unions. The longtime lawmaker, who joined the House in 2004, once worked as a carpenter and was a former union representative. But union leaders from the food and commercial workers union said Holvey has forgotten his progressive roots. They took issue with several decisions made by the lawmaker, but the most pressing complaint was the belief that Holvey didn't do enough to support a measure that would have allowed cannabis workers to unionize.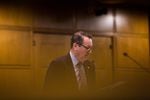 During the most recent legislative session, Local 555′s priority bill was House Bill 3183, which would have prohibited employers in the cannabis industry from stopping workers' efforts to unionize. The bill didn't get the support it needed to become law, including in the Business and Labor Committee Holvey chairs.
Michael Selvaggio, a lobbyist for the union, said the effort to oust Holvey had more to do with the fact that he had misled the union and was not responsive or communicative.
"It's less about a bill itself, but a style of legislating that has severely marginalized working-class people," Selvaggio told OPB this week.
Rep. Holvey said in an earlier interview with OPB he was surprised by the union's decision. Holvey said he believed the legislation wouldn't pass legal muster and would be preempted by federal law. The union said, however, the lawmaker went out of his way to secure a misleading legal opinion, which could make it harder for cannabis workers to unionize in the future.
The effort to recall Holvey could prove costly. The union has already spent more than $181,000 and Lane County officials estimated the election would cost about $65,000.
It's also gotten ugly. Selvaggio, who is helping spearhead the recall effort, said he's had canvassers who were trying to gather signatures who were harassed while going door-to-door.
"For the first time in his career, Rep. Holvey will have a serious challenge at the ballot: his own record," Nathan Erne, who helped with the recall effort, said in a statement.
Recall petitions in Oregon are rarely successful. In recent years, recall efforts against Democrat and Republican lawmakers alike — including several aimed at former Gov. Kate Brown — have failed.
Dirk VanderHart contributed to this report
This story may be updated