The man accused of using a vehicle to kill a prominent Portland protester in 2019 agreed to plead guilty to manslaughter during a hearing set for Friday.
Christopher Knipe, 48, will accept a sentence of 17 years in prison for killing Sean Kealiher in the early morning hours of Oct. 12, 2019, according to court records.
Kealiher, who was 23 when he was killed, was a well-known presence at protests for antifascist and other causes. Kealiher first began engaging in political activism during the 2011 Occupy Portland protests and became an active figure in demonstrations for social justice and police reform causes during the early years of the Trump presidency. Knipe and Kealiher's family have said the killing was the result of a drunken confrontation rather than politics.
Laura Kealiher, Sean Kealiher's mother, said she had hoped to see the case go to trial, which was scheduled to begin Oct. 23.
"We as a family said we really didn't want a plea deal," Kealiher told OPB this week. "We wanted it to go to trial. We wanted to go for murder because he did the three-point turn (and) drove up onto the sidewalk. But, nope."
Under the plea agreement, Knipe will accept guilt for a first-degree manslaughter charge and receive a sentence of 17 years. Knipe will have to serve 10 years of that sentence at a minimum, with the possibility of earning up to a 20% reduction for good behavior on the final seven years of the sentence.
Knipe's attorney, Russell Barnett, declined to comment.
"On October 12, 2019, while driving a motor vehicle, I recklessly caused the death of Sean Daniel Kealiher under circumstances manifesting extreme indifference to the value of human life," Knipe's signed plea petition states.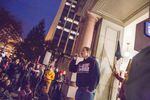 Sean Kealiher and two friends had been socializing on the night of the killing at Cider Riot, a now-closed cider bar in Northeast Portland that was a popular gathering place for leftist activists. Knipe and two other men attended a concert that same night at the nearby Bossanova Ballroom.
Around midnight on Oct. 12, 2019, both groups of men passed near each other on the streets and had a verbal altercation. Shortly after, Knipe got into a Ford Explorer and crashed it into Kealiher before fleeing the scene on foot and leaving his vehicle, according to surveillance video footage and a 2021 investigative podcast by OPB. Kealiher died that night after his friends took him to the hospital.
Laura Kealiher had long accused Knipe of being involved in the killing, though police did not arrest him until Aug. 4, 2022. Laura Kealiher has insisted that Portland police slow-walked the investigation into her son's death because of his political opinions. In 2021, OPB appealed to the Multnomah County District Attorney's office after the city of Portland refused to release the full police investigation as a public record. OPB was slated to receive those records when Knipe was finally arrested, delaying those records from becoming public.
Laura Kealiher said she did not consider a 17-year sentence to be a just conclusion to the loss of her son, though prosecutors and Knipe's defense attorney did arrange an opportunity for her to speak directly to Knipe prior to the plea agreement. The two met in person over the summer at the Multnomah County Courthouse.
She said she was disappointed that Knipe told her he was "blacked out" when he killed Sean Kealiher and did not accept direct responsibility. The day after the killing, Knipe reported his vehicle stolen to Portland police and he did not confess to the crime until detectives told him in 2022 that they had him on surveillance video driving the vehicle.
"That's what I have a hard time with," Laura Kealiher said, calling Knipe's admission "disappointing."
Kealiher said she used the meeting to tell Knipe how important her son was in her life. Knipe was aware of his guilt, she told OPB.
"I realized that hating him so much wasn't going to do anything for my pain, and nothing is going to bring Sean back," she said.
While Laura Kealiher said she's ready to move on with her life, she called for a thorough review of the Portland Police Bureau's work on the case to clearly show why the investigation dragged on for nearly three years without an arrest.