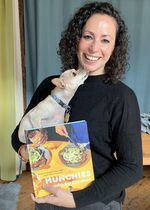 In this exclusive interview, Katherine sits down with Farideh Sadeghin, culinary director at Vice Munchies and host of "The Cooking Show" on vice.com and YouTube.
They discuss Farideh's new book, "Munchies Guide to Dinner," a guide to preparing sinfully delicious meals and snacks you never thought you'd make at home.
We hope you enjoy this bonus content.
---
Subscribe To 'The Four Top'
Subscribe to "The Four Top" on NPR One, Apple Podcasts or wherever you find your podcasts. Join us on Facebook at Facebook.com/TheFourTop and tweet at us at @The4Top.
---