The Bureau of Land Management announced a proposal Friday that would fund up to 11,000 miles of strategic fuel breaks in Idaho, Oregon, Washington, California, Nevada and Utah in an effort to better control wildfires.
According to the BLM, the concept behind fuel breaks or "firebreaks" is to create gaps in vegetation in key locations to slow the process of a wildfire. When a wildfire burns into a fuel break, the flame length decreases and its progress slows, making it safer and easier for firefighters to control. The proposed plan would help control wildfires within a 223 million-acre area in the Great Basin states.
"Fuel breaks are one of the most important tools we have to give wildland firefighters a chance to safely and effectively contain rapidly moving wildfires and potentially reduce wildfire size," said BLM Deputy Director for Policy and Programs William Perry Pendley in a statement.
All of the proposed fuel breaks would be implemented along existing roads or rights of way on BLM lands in order to minimize the disturbance and habitat fragmentation for wildlife.
The agency said it wasn't immediately sure how fuel breaks would affect firefighting resources on Indian reservations.
Under the proposal, fuel breaks would only be implemented in adjacent areas of reservations that are managed by the BLM.
Northwest reservations within the proposed perimeter of fuel breaks include the Warm Springs, Yakama, Umatilla and Colville, along with the Nez Perce, Coeur D'Alene and Fort Hall reservations in Idaho.
According to the agency, it has assessed more than 1,200 fuel breaks and other types of fuel treatments that intersect with wildfires — since 2002, 78% of them were effective in helping to control wildfires, and 84% of them were effective in helping change fire behavior.
"Recovering from the devastating effects of wildfires can take decades in the rugged, high-desert climate of the Great Basin. These tools will help firefighters contain fires when they break out," said Casey Hammond, the acting assistant secretary of the Interior for Land and Minerals Management in a statement.
The whole goal of the project is to conserve sagebrush communities, according to Jennifer Jones, a spokesperson for BLM.
The agency reports over 13.5 million acres of historically sagebrush communities on BLM land burned within the project area between 2009 and 2018. Wildfires that consume sagebrush give an opportunity for invasive annual grasses to increase, making future severe wildfires more likely.
"We've lost, over the last couple of decades, nearly half of those in their historic range. These sagebrush communities are really important for people, their livelihoods depend on it in a lot of cases," Jones said.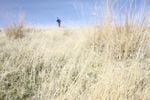 According to Jones, a total estimated cost for the proposed project will vary depending on what other projects BLM offices decide to move forward with.
The proposed plans are available for public comment for 30 days before the BLM reaches a final decision.