Archaeologists from the University of Oregon return this week to a cave where the oldest known footwear in the world was found.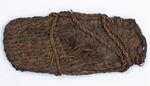 The 10,000-year-old, bark-woven, sagebrush sandal was found at Fort Rock Cave in Lake County, Oregon. Luther Cressman, who's known as the "Father of Oregon Archaeology," found it back in 1938.
In 1966, he returned with a graduate student, who uncovered a hearth among some Ice Age gravel. It was radiocarbon dated to roughly 15,000 years ago — making it one of the oldest hearths in Oregon.
Now, Tom Connolly with UO's Museum of Natural History is returning to the cave. But he's not looking for artifacts; there are already a lot of those.
Instead, Connolly is going to take soil samples and date them.
"Our objective is not to collect a whole bunch of stuff," he said. "It's really to understand the history of the cave a little bit better."

Connolly said he'll leave most of the cave alone so future scientists, perhaps using improved tools, still have something to study.