A Wasco County Circuit Court judge will hear a case in January that could dramatically define — and clarify — Oregon's statewide sanctuary law for the first meaningful time in the law's 31-year history.
While the law has been the subject of past litigation, no court has outlined the scope of what's allowed under the anti-profiling legislation signed into law in 1987 with overwhelming bipartisan support.
In July 2017, a group of county residents sued the Northern Oregon Correctional Facility (NORCOR) in The Dalles because the jail houses detainees for U.S. Immigration and Customs Enforcement.
The residents argue the agreement between NORCOR and ICE violates Oregon's sanctuary law, which limits how much local law enforcement can work with federal immigration authorities.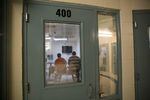 NORCOR is the last remaining local jail in the state that houses ICE detainees and argues it's not violating state law. In May, the Josephine County sheriff canceled its contract with ICE, citing NORCOR's litigation among its reasons. In June, the Springfield Municipal Jail also ended its agreement with ICE.
In court filings last week, a group of Wasco County residents suing the jail asked the county judge to force NORCOR to end its agreement with ICE and declare the jail was violating state law.
The case could turn on a few key words.
Specifically, what does it mean for state and local law enforcement agencies to "detect" and "apprehend" a person? Under the statute — known as 181A.820 — no local law enforcement agency can use "agency moneys, equipment, or personnel for the purpose of detecting or apprehending persons whose only violating of law is that they are person of foreign citizenship present in the United States in violation of federal immigration laws."
According to the plaintiffs, NORCOR is doing just that.
A History With ICE
NORCOR is the regional jail serving Wasco, Sherman, Gilliam and Hood River counties. It's held immigration detainees since 1999, when the jail opened.
NORCOR is part of a network of more than 130 facilities in 40 states that ICE uses to hold detainees through Intergovernmental Service Agreements (IGSA), according to the deposition of Corey Heaton, assistant field office director for ICE's Enforcement and Removal Operations in Portland.
The plaintiffs want that IGSA terminated.
"Preventing ICE from using its contracted bed space at NORCOR would also have a significant adverse impact on basic ICE operations by curtailing ICE's ability to apprehend removable aliens," Heaton said in a September 2017 deposition.
The jail also relies heavily on its ICE contract to maintain operations.
In the 2017-18 budget year, ICE paid NORCOR $908,800, according to the jail's budget documents. NORCOR officials anticipate getting more then $700,000 in the 2018-19 budget year.
The ICE contract has taken on a new importance since 2016, when voters in Wasco County rejected a proposal to renew a property tax levy that would help continue financing NORCOR.
Without the ICE contact, NORCOR officials have said they would have to reduce staff and cut the jail's inmate population by half.
From July 2017 to August 2018, the jail held 54 people each month for ICE on average, according to court documents.
Many of those inmates would have otherwise been released, if not for their immigration status and the relationship between ICE and NORCOR, attorneys for the plaintiffs argue.
According to court filings, NORCOR has notified ICE in the past when inmates booked on local charges are set to be released.
"If ICE has expressed an interest in the person, NORCOR's practice has been to designate him an 'exclusive ICE prisoner' who remains in custody solely for immigration purposes," attorneys for plaintiffs wrote in their court filings.
Even though those people were then being held solely for immigration reasons, that didn't change their incarceration status.
"In fact, they remained in the same pod or cell as before," court documents state.
NORCOR charged ICE $80 per day, per detainee to keep someone in custody. That's the daily rate ICE and NORCOR agreed to under their current contract.
"Between November 2014 and May 2018, NORCOR held at least three dozen local inmates for ICE who otherwise would have been released on state or local charges," according to court documents.
In April 2018, NORCOR said it ended the practice of honoring ICE detainers.
"Even under the revised policy, however, NORCOR continues to notify ICE when a local inmate is scheduled to be released in order to facilitate the inmate's arrest for immigration enforcement purposes," allowing ICE to arrest the inmate in the jail's lobby, the attorneys wrote.
The plaintiffs argue these actions violate state law.
Efforts To End A Contract
The day after the plaintiffs filed their motion with Wasco County Judge John Wolf, Oregonians reaffirmed their support for the sanctuary law by overwhelmingly voting down Measure 105, which would have repealed it.
In the court filing, attorneys for the plaintiffs noted that money from ICE was paid into NORCOR's general fund, rather than a separate account.
Related: Oregonians Vote To Keep State's Sanctuary Law, Reject Measure 105
They also note that the same staff that guard ICE detainees also guard the county's inmates. That matters, the plaintiffs argue, because Oregon's sanctuary law prohibits using local and state resources to enforce federal immigration law.
"To summarize, NORCOR is a local law enforcement agency that is using public resources to incarcerate persons under the IGSA solely because they are alleged to be present in the United States in violation of the immigration laws," attorneys for the plaintiffs wrote.
The plaintiffs referenced Heaton's deposition.
"NORCOR's activities under the IGSA, by definition, are 'for the purpose of' assisting ICE in 'apprehending' immigrants," attorneys for the plaintiffs wrote. "Those activities violate the plain terms of [the state's sanctuary law]."
Attorneys for NORCOR have not yet responded to the filing.