The Portland Police Bureau reached out to communities of color Monday to explain that officers would not be enforcing President Donald Trump's new immigration orders.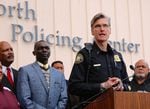 Chief Mike Marshman said he wants to assure people struggling with fear and uncertainty about the new orders.
"Oregon law prohibits the police bureau from enforcing immigration laws," he said. "I can understand why the community might be afraid that the police would do that. It makes sense. But we don't enforce immigration laws."
Marshman sent out an email to officers urging them to be the first to reach out to immigrants to explain the situation.
He's also asked staff to provide extra patrols around mosques, Islamic schools and community centers.
About 27,000 Oregonians are of Arab or Middle Eastern ancestry — equivalent to the populations of Redmond or Tualatin.