The Hollywood Theatre has successfully crowdfunded $250,000 to buy Movie Madness, ensuring the Portland video store will have a sequel as a nonprofit.
Even before all the other video stores closed, Movie Madness was a Portland favorite, with its mammoth collection of movies and memorabilia. But after 26 years of business, owner Mike Clark decided it was time to retire.
Not wanting to liquidate the collection, Clark approached the nonprofit Hollywood Theatre about buying the collection of more than 84,000 films and television series, as well as the business. (Clark will keep the movie memorabilia but continue to house them in the store.)
On Oct. 11, the Hollywood launched its most ambitious Kickstarter ever, with incentives including "I Saved Movie Madness" shirts, free rentals, and private screenings.
The Kickstarter raised more than $170,000 in the first 48 hours and met its goal in little more than a week.
"We were all in shock watching it and refreshing it on our computers, going, 'What is happening?'" says Executive Director Doug Whyte.
The average contribution was less than $70, he says, "so that's kind of amazing, that sheer number of people."
The Hollywood is now working towards a Kickstarter stretch goal so that it can build a screening room in Movie Madness, where community groups and filmmakers can hold regular screenings, like a film noir club or a cult film meet-up.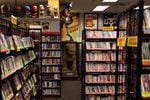 "I think, number one, is to create more of a community center out of it — to bring people together to watch and discuss film together," says Whyte. "It's also a good business move. Maybe when people are in there, they'll go buy beer or rent a movie"
Whyte and his team also plan to mine the Movie Madness vault for a film series at the Hollywood and to partner with the computer nonprofit Free Geek to provide refurbished DVD and VHS players to renters who no longer have them.
The successful campaign triggers a grant from the James F. and Marion L. Miller Foundation for $90,000 dollars to fund operational support for the first two years, helping to ensure a sustainable transition.
The Hollywood will take over Movie Madness on Jan. 1. It will remain in the building, which is owned by Clark.