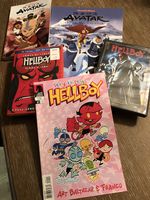 A Swedish video game conglomerate announced Tuesday that it's purchasing Oregon-based Dark Horse Comics.
The Milwaukie-based publisher, the country's third-largest comics publisher behind Marvel and D.C., announced Tuesday that it's been sold to the Embracer Group in a deal expected to close early in the new year.
Dark Horse has 181 employees in Oregon and Los Angeles and a deep library of intellectual property that could be tapped for TV shows, movies and video games. In addition to publishing comics, Dark Horse also owns a production company that produces films and TV shows, and a retail chain that sells comics and collectibles.
The company is known for working with independent creators on offbeat independent titles, including "Hellboy," "The Umbrella Academy" and "Sin City." It also produces licensed series based on established brands, such as "Star Wars" and "Avatar: The Last Airbender."
Its presence in Oregon has also been credited with contributing to the growth and development of other, smaller, Oregon comics publishers, including Oni Press and Image Comics, both based in Portland.
In recent years, Dark Horse has increasingly worked with other entertainment companies to turn its comics titles into shows and films.
Dark Horse did not disclose the terms of its acquisition, but said Embracer will purchase 80% of its shares from a seller based in Asia, and 20% will come from CEO Mike Richardson and COO Neil Hankerson. Both will remain with the company. There are no plans to restructure.