The end of the year gives us the opportunity to look back at events and experiences from the region. As we draw a close on a year of both hardship and joy, let's remember some of the stories that made us smile.
A new language has been born in the Northwest
It's not often a new language emerges.
But in the last 15 years, a language was born right here in the Pacific Northwest. It's called Protactile, and it was created by a group of DeafBlind people who prioritize touch.
Read the full story by Sage Van Wing.
Timbers from famed Beeswax shipwreck found on the northern Oregon Coast
The Goonies were onto something... While that ragtag team struck gold, a Tillamook County fisherman found pieces of a shipwreck that resisted discovery for centuries in sea caves north of Manzanita.
In June, under the watchful eyes of state and marine archaeologists, a crew of sheriff's deputies, state parks employees and others scrambled over barnacle-crusted rocks at low tide to haul out the pieces.
Read the full story by Katie Frankowicz from OPB's news partner KMUN.
Rediscovering Oregon's lost Skyline Trail
Many have heard of the Pacific Crest Trail, but few know of its predecessor, the Oregon Skyline Trail.
An Oregon father and daughter have been on a quest to find the last remaining pieces of the trail while building a personal connection along the way.
Read the full story by Ian McCluskey.
A classic American concession was first fried in Oregon: the corn dog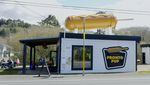 You see them at festivals and fairs across the country. At sporting events. At concession stands for any occasion, really. They're an American classic — corn dogs. And it may surprise you that the beloved fried food on a stick was invented at the Oregon Coast.
On Labor Day 1939, a Rockaway Beach hot dog vendor had an idea as he sat with overstocked stale buns. What about a batter that could be cooked on demand?
Read the full story by Meagan Cuthill.
At Hillsboro's Library of Things, patrons can check out an experience
Craving a chocolate fountain? Looking to try your hand at steel drums? Want the company of a robotic pet cat?
All of these things are available for borrowing at the Hillsboro Public Library's Library of Things, which features over 1,200 items.
Read the full story by Jenn Chávez.
Queer, Latinx and deaf-owned: Inside Portland's Pah! Restaurant
A restaurant that opened this year in Southeast Portland is queer, Latinx and deaf-owned. It has not only made a splash locally, but also has gained some attention from around the country and even around the world.
Their restaurant serves up classic American pub food, but with a side of ASL slang. It is aptly named Pah!, and for folks who use American Sign Language, or ASL, "pah" is a celebratory word that means "finally," "success" or "at last."
Read the full story by Crystal Ligori.
Finally, we wanted to hear directly from Oregonians about what brings them joy. In the audio series "Finding the Joy," Geoff Norcross found out. Listen to each answer here.