Editor's note: This story explores two enrollment boundary models OPB developed to better understand and explain the process. These exercises are not proposals from Portland Public Schools or its advisory committee.
Portland Public Schools is in the thick of a debate over school boundaries and how its buildings are used. On top of being controversial and emotional, it's intensely complicated.

PPS is approaching decisions on how to realign the school district — decisions that are ultimately up to the school board, but will be informed by recommendations from an advisory committee (called the District-wide Boundary Review Advisory Committee) and Superintendent Carole Smith.


---
Crowding In PPS
Several public schools in west Portland face overcrowding.
The district proposed enrollment boundary changes to alleviate the problem.
OPB created two models to explore the complexity of moving boundaries.
---
There have been two scenarios rolled out by PPS and additional models explored by DBRAC. One changes how mainly K-8 buildings east of the Willamette River would morph into elementary and middle schools. The other tackles west side boundary changes. Portland Public Schools updated its latest draft proposal for the west side, this week.
To fully understand how complicated it is to make major changes to school boundaries and buildings, OPB attempted to create its own scenario. Two, actually.
We tried to keep it simple for the thought experiment. The main idea: What if Portland Public Schools opened one mothballed building, Smith Elementary School, to ease crowding on Portland's west side?
This is only an exercise.

Opening Smith is not part of any scenario or model the district has proposed.
In a DBRAC meeting Thursday night, it was mentioned, as committee members expanded their discussion of ways to reduce overcrowding. One reason Smith has not been on the table is it would take until fall 2017 to be ready for students. The district and its advisory group are prioritizing west side changes that can happen faster than that.
Exercise A: Relieve Chapman, Prevent Future Crowding
Proposal: Open Smith Elementary as a neighborhood school and assume it draws close to 330 students from nearby schools on track for overcrowding. Also, push boundaries northward and relocate a special program, ultimately resulting in a reduction of the boundary for the most overcrowded school, Chapman Elementary.
This OPB exercise assumes the Odyssey program, which currently shares space with the Hayhurst neighborhood school, would move as PPS has proposed. That move would open up space at the Hayhurst building, which itself is crowded right now with two programs in one building. The Hayhurst neighborhood boundary expands in our model, but the building would remain about 150 students below capacity.

The effect on Chapman could be profound: an enrollment drop of 200 students, down to 470. Other schools would see increases. Bridlemile would grow — from around 480 students to about 520 — and Rieke's enrollment would rise from a little over 400 students now, to more than 430.
 
All of that makes sense, right? Creating space by re-opening a school in Southwest and by expanding other school boundaries relieves Chapman.

The goal of opening Smith is to hold off anticipated overcrowding at two Southwest schools. Portland Public Schools' latest projections show Capitol Hill and Maplewood elementaries will be overcrowded by 2020. In our model, Capitol Hill would shrink by about 60 students; Maplewood by about 80, at least in the short term.
However, it's hard to create a boundary for Smith without affecting the enrollment at a third school. Markham Elementary is not overcrowded now and isn't expected to be in 2020, but it would lose 60 students in our model. Getting too small can be a problem for schools like Markham. School resources are based primarily on enrollment, so losing students can mean less funding, and that can make it harder to provide the same programs that larger schools have.
Curiously, although the boundaries change for Ainsworth Elementary, the overall enrollment would stay flat, at around 600 students.
This OPB experiment highlights the domino effect of shifting school boundaries. By addressing problems at four schools, it affects eight school communities.
Exercise B: Move The Metropolitan Learning Center To Smith
Proposal: Open Smith Elementary as the new location for the Metropolitan Learning Center (a district-wide alternative program serving students in grades K-12), draw a neighborhood boundary around the MLC building, and move students from overcrowded Chapman to the building MLC would leave. To be clear, the district has not proposed closing or moving MLC. And again, PPS has announced no plans to re-open Smith — this is just an exercise.
Would it work to move MLC out and bring Chapman students in? Numerically, yes. Smith has just enough space for the number of students at MLC, and the MLC building could easily accommodate half the students at Chapman. It could work. But PPS Director of Planning and Asset Management Sara King told OPB that fixing Smith could be even more expensive and time-consuming, if it opened as something other than an elementary school.
"Also, the school was built as a K-5, so if it were to serve middle school students, additional improvements will need to be made," King said. Not only does MLC have middle school students, it has high schoolers, too. 

MLC supporters have said their program's success is partly dependent on being centrally located in the city. Could the program survive a move, as was suggested in recent months? Supporters say yes. But they wouldn't be happy, and they argue it wouldn't be good for students.
6 Things We Learned From Moving Boundaries
1) No school is an island.
The two exercises OPB completed took aim at one problem: Chapman Elementary's overcrowding. But both of OPB's "solutions" have other consequences.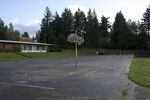 Our first model creates a ripple effect, involving more than 800 west side students. The changes would help Chapman's crowding problem by moving out 200 students. The model would also rein in growth at Capitol Hill and Maplewood by removing 140 students. So 340 students are saved from overcrowding, but it takes moving more than twice that many to accomplish that.

Moving MLC would affect fewer students. But it would mean moving the Metropolitan Learning Center to a part of the city that's more suburban than metropolitan (no offense, anyone who lives near Smith, but I hope you get our meaning). And it'd mean bigger building changes at Smith.
On the other hand, the boundary changes in the first model would also help reduce crowding at West Sylvan Middle School and Lincoln High. The idea involving MLC would really only help Chapman.
2) It'd sure be easier if you could move buildings.
If Smith opened as a neighborhood program, its graduating fifth graders would go to Jackson Middle School. If only PPS had more Jacksons. Or if only Jackson could trade places with another PPS building ... sigh.
Jackson used to be a high school and it has tons of room. It has so much room, DBRAC has recently talked about moving whole programs into Jackson Middle School.
The problem is there are only so many students living in that hilly, southernmost part of Southwest Portland. Jackson has a highly-regarded arts program. And did we mention how much room it has? But it'd be a hard sell to get families to send their kids out of the crowded schools in Northwest Portland all the way to the southern end of the district for a more spacious middle school.
3) It takes time and money to make changes.
Tell me again: Why hasn't Portland Public Schools proposed opening Smith?
It's a small, outdated building that hasn't been used by the district in 10 years. Although the Riverdale School District leased the Smith building back in 2009-10, PPS says it's not in student-ready shape. The roof leaks. There's not a functional kitchen. The back hall needs significant adjustments.
Sara King at PPS estimates it would cost up to $2 million to rehabilitate Smith and it would take until fall 2017 to have the repairs done. The district wants the west side problems addressed by fall 2016, if possible. The east side's proposed reconfiguration to middle schools is more likely to wait until 2017. That's a good thing, since Kellogg (a building with many of the same problems as Smith) is part of the proposed solution —  but only if the changes wait until fall 2017.
The $2 million for repairs to Smith is just the tip of the iceberg in terms of facility spending that could make PPS' problems easier to manage. Look at Lincoln High School, which DBRAC members
Thursday night is hard to address. Even under OPB's first model Lincoln would only shrink by 60 students. A better solution might be to make Lincoln bigger — and that is part of the long-term plan. But Lincoln is going to have to wait. It's not one of the three high schools being rebuilt under the current PPS bond. It is likely to be in the next bond (which voters would have to approve).
4) Those hills, highways and rivers get in the way.
You can't move boundaries wherever you want. On the west side of Portland, you've got the Sunset Highway, I-5 and Burnside cutting through neighborhoods. There are steep hills, a bending river and sprawling green spaces like Washington Park, the Oregon Zoo and Forest Park. And you can't just pick up a building and move it to where the kids are. The district can't move families either.   

If you look at the "Smith as a neighborhood school" map, there's only so much room to move boundaries. You might wonder: What about just continuing to move the Ainsworth and Bridlemile boundaries? Across Burnside, the road that separates north from south in Portland? If it's only going to be a relatively small group of students, those kids might have a hard time integrating into the new school community.
Related: New School Boundaries Proposed For West Portland Schools
Likewise, with Rieke, we considered playing more with the school boundary. But its boundary is hemmed in by major roads, like I-5 and Beaverton-Hillsdale Highway, and it's surrounded by hills.
That varied topography also means not every swath of land has the same number of children living on it.
There's one neighborhood on the Hayhurst-Maplewood border with lots of PPS students, and moving that area could have a significant effect on either school. It's possible to cut it in half - but then you really start dividing neighborhoods. In other cases, there can be large areas with few children. Moving those areas to different schools doesn't do much to balance enrollment, and it would have the downside of creating longer travel times for students (among other disruptions for families).
5) These decisions are about more than numbers and lines.
Let's back up a minute. Stop reducing this to anonymous numbers, OPB. This isn't a simple planning exercise. These are children whose education hangs in the balance.

All true. And DBRAC members have been focusing a lot on how these changes will affect kids' education.

They want to know how certain enrollment numbers translate into specific programs and services a school can provide. They want to know what effect factors like school size and travel distance could have on minority students.

The bottom line is: It's easier for schools with big enrollments to provide strong programs with lots of offerings. But when schools have enrollments that are too large, problems emerge. Parents at Chapman remind district leaders they're running classes in a poorly ventilated basement. Lincoln High has made classrooms out of part of its cafeteria.
6) Timing matters.
There are trade-offs to going fast or slow.

Going slow allows more time to plan and implement. Big steps, like opening Smith Elementary, you don't want to rush into.

But there's urgency, too, especially on the west side. Parents at Hayhurst have said that if Odyssey doesn't move out by fall 2016, then, like Lincoln High, their kids will be attending class in the auditorium/cafeteria — complicating both lunch period, and the theater element of Hayhurst's Odyssey program.

However, Portland parents have long memories. The rapid implementation of the K-8 restructuring from a decade ago did not go smoothly. Superintendent Carole Smith has emphasized she doesn't want hurried changes. But she and many parents on the west side know that some changes can't be delayed, either.
---
By the way, you too could play "Let's Move A Boundary!" The raw data that OPB used was obtained online from PPS, though we needed a little technical assistance from the district.
OPB has not been the only team working on possible alternatives. Check out this proposal from parents in the Jefferson High School area. They've broken it into Part A, to take place in fall 2016, and Part B, for fall 2017.