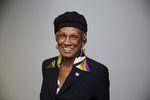 Commissioners in Josephine County will vote tomorrow on an ordinance that would ban new cannabis grows on rural residential land. Last spring a majority of voters in the county favored an outright ban, which could put hundreds of farms out of business. Commissioners have been working for months to craft an ordinance that will make everyone happy.
We talk with Oregon state Republican Sen. Jackie Winters about her new role as Senate Minority Leader, what she hopes to accomplish in that role in the coming 2018 short legislative session and beyond.
In a recent Outside Magazine piece, writer Emma Marris tells the story of a wolf called OR-4. He was the alpha male of the first pack to live in Oregon after wolves were reintroduced in the 1990s. His story reflects the complexities of wolf management and the emotional toll that can take on the people involved.
---
Contact "Think Out Loud"
If you'd like to comment on any of the topics in this show, or suggest a topic of your own, please get in touch with us on Facebook or Twitter, send an email to thinkoutloud@opb.org, or you can leave a voicemail for us at 503-293-1983. The call-in phone number during the noon hour is 888-665-5865.
---