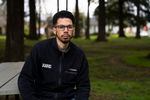 Gun violence is on the rise in Portland. The city has seen 284 shootings so far this year, which is more than double the number from the same time last year. Lakayana Drury has some ideas to respond to the root causes of gun and gang violence.
Drury is the founder and executive director of Word Is Bond, an organization that aims to change the relationships between young, Black men and law enforcement. His proposals include a plan to offer more resources to young people likely to engage in gun violence through a program called the Rose City Investment Plan. It would provide $1,000 monthly stipends as well as wrap-around services including job training, mentoring and mental and behavioral health support. Drury also wants to see the city offer free access to higher education for students who are Black, Indigenous or other people of color, covering not only tuition and textbooks but room and board as well. We talk with Drury about his proposals and the next steps.
Contact "Think Out Loud®"
If you'd like to comment on any of the topics in this show or suggest a topic of your own, please get in touch with us on Facebook or Twitter, send an email to thinkoutloud@opb.org, or you can leave a voicemail for us at 503-293-1983. The call-in phone number during the noon hour is 888-665-5865.