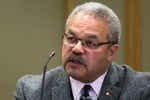 Saturday marks Juneteenth, the holiday commemorating the day when news of the end of slavery finally reached the last remaining enslaved people in Texas in 1865 — two years after the Emancipation Proclamation decreed an end to slavery in the United States.
June 18 is now a state and federal holiday, one result of last year's widespread racial justice demonstrations.
Oregon Sen. Lew Frederick, a Democrat from Portland, was a staunch supporter of the bill to formalize Juneteenth in Oregon, and he joined OPB's "All Things Considered" host Tiffany Camhi this week to explain why.
You can listen to the full conversation using the audio player at the top of this story. Here are highlights:
Tiffany Camhi: Earlier this month, you delivered a very passionate speech to your fellow senators about Juneteenth. And you made it really personal, describing your own family's experience all the way back to your great-grandfather, who was born enslaved in the South. Why did you feel it was important to share your family's story?
Sen. Lew Frederick: I think it's important because we find ourselves often using statistics or some abstract concept of what's going on. And it's important to be able to make it clear that this affected people. … For a lot of folks, it seems as though it's at a distance. This is a very personal thing for me, and I wanted to make clear that it was personal. This affects not only my family, but it also points to where we need to go as a state in understanding the history and taking the next steps.
Camhi: What does Juneteenth mean to you?
Frederick: For me, it means that we have some real possibilities of change, and that we can affect that change, and that we need to celebrate the fact that we actually have a sense of hope of doing things. It's a touchstone. It's a marker that people can look at and say, "OK, we were here, now we're moving this direction. It takes a while to do that, but we're going to keep moving forward."
Camhi: What role do you think the racial justice protests from the past year play in the passage of this bill? Do you think this would have passed without a racial reckoning?
Frederick: It played a huge role, because, as I said, a lot of the statistics, a lot of the other things that had taken place in the past were considered to be, oh, stories that you couldn't really validate. When we saw George Floyd killed on camera in front of us, it was no longer a question of whether this was a real situation or not. … So I don't think it would have happened as quickly as it did; it certainly would have would have been a much more, much different struggle because some of us have been talking about issues like this for decades to a group of people that were often patting us on the head and saying, "Oh, that's nice, Yeah, maybe someday we should do something about this."
Camhi: This movement to recognize Juneteenth comes as many state legislatures have passed restrictive voting laws and while the George Floyd Justice in Policing Act is at a stalemate in Congress. How does making Juneteenth a holiday in Oregon measure up against these other civil rights issues for you?
Frederick: It's just one of the civil rights issues that we need to deal with. Yes, we have voter suppression. We have people who are threatening other folks physically. We have all these things taking place. But it's not a surprise; when Juneteenth came in, people were immediately attacked. There was a lot of violence that took place because, in many cases, whites were afraid that the Black folks who they had been enslaving might react the same way to them. And so they began to be very, very fearful. Fear was one of those things that the political leadership could use and that's what they did. They did use it.
There are some folks who are still using it. And so the voter suppression issues, a number of the other things that are taking place are expected reactions, but the other reaction is for folks saying, "Hey, wait a minute, no, no, we're not going to go that direction anymore. We saw what you did with it. We're not gonna let that happen." So we have folks who are determined to make sure that we don't go back in time and I'm very pleased with that.
Camhi: What's your biggest priority for the Oregon Legislature in the next week or so, before adjournment?
Frederick: That's a long list. But I will say, we also passed a bill calling for the U. S. Congress to look at reparations. We've passed bills regarding police accountability, we've passed bills regarding housing and environmental issues and education and health care and a whole slew of other things. The other thing that happened this session is we have 12 people of color in the Oregon Legislature. That's the most we've ever had. … Twelve people of color: that's an extraordinary thing, and we will see more because other folks have decided that they're going to step forward.
Camhi: How would you like to see people who don't identify as Black recognize Juneteenth?
Frederick: One would be financially. If you can go to an African American business — a restaurant or someplace like that — that would be great. I think attending large gatherings of some form, that would be helpful, to say "I am an ally, I want to be involved in whatever I can do." But I think it's also a matter of just sitting down and perhaps reading a book like "Caste" or something like that, something that might give you a sense of what did take place and how we need to move forward.