Locavore alert! Just in time for the most celebratory season of food, family and friends, we have recipes, serving suggestions and local wisdom from a cornucopia of cookbooks published recently in the Pacific Northwest. Our region is distinctive and bounteous in what we grow, raise and catch. Chefs and cooks well-versed in our traditions forge new, personal culinary paths and inspire us to experiment in our home kitchens.
---
"Adventures in Chicken" by Eva Kosmas Flores (Portland) | Chicken, Pistachio and Caramelized Fennel Salad
From a Portlander's new cookbook: Toss pistachios with caramelized fennel, tangy goat cheese and crispy-juicy roasted chicken for a scrumptious salad.
---
"Art of the Pie" by Kate McDermott (Port Angeles, Washington) | Cranberry Pie
The approachable new "Art of the Pie" cookbook's Olympic Peninsula author knows how to slice it for fall-winter holidays: In the Pacific Northwest, pie-baking is all about the cranberries.
---
"Bitterman's Craft Salt Cooking" by Mark Bitterman (Portland) | Salty Dalmation with B&W Ice Cubes
Serve your guests Salty Dalmatians concocted with secret ingredients, from Portlander Mark Bitterman's new craft-salt cookbook.
---
"CinCin: Wood-Fired Cucina" by Andrew Richardson (Vancouver, B.C.)  | Whole Roasted Garlic and Baba Ganoush  
Vancouver, B.C., restaurant chef Andrew Richardson's new cookbook offers fired-up Northwest flavors in these two simple recipes for versatile Whole Roasted Garlic and creamy Baba Ganoush.
---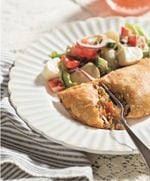 "Scandinavian Gatherings; From Afternoon Fika to Midsummer Feast" by Melissa Bahen (Eugene) | Swedish Meat Pie
Chow down plump Swedish Meat Pies, a treat any time of the year, from Melissa Bahen's all-things-Scandinavian cookbook.
---
"Taste & Technique" by Naomi Pomeroy (Portland) | Pan-Seared Wild Mushrooms with Parsley and Parmesan
Award-winning Portland chef Naomi Pomeroy shares hard-earned know-how in her new cookbook, "Taste & Technique." Try her Pan-Seared Wild Mushrooms with Parsley and Parmesan as a hearty side.
---
Not every regionally significant book concerning food and drink published this year is a cookbook. Here are three that view what's on our plates and in our glasses through different lenses: