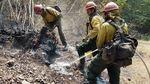 UPDATE (Friday, Aug. 2, 2019, at 6:45 a.m. PT) — Firefighters say they expect to fully surround southern Oregon's Milepost 97 Fire within a few days — though the fight against the blaze is far from over.
Smoky air from the Canyonville-area conflagration poses a health risk for people in Grants Pass and beyond the California border to Yreka.
"Smoke is going to, unfortunately, keep settling in south of the fire in the same areas as it has been," air quality specialist Wendy Wagner said Wednesday night in a Facebook Live presentation.
Crews may institute rolling blockades along Interstate 5 on Thursday, Aug. 1, to aid their efforts to control areas burning near the freeway.
The fire was 35% contained as of Thursday at 10:42 p.m., with nearly 1,500 people and 17 helicopters deployed. It has burned more than 13,000 acres.